This summer, I participated in the Literary Ladies reading challenge hosted by the lovely Kay, Kristen, and Kari (pretty much the only acceptable time KKK is acceptable). I posted my original list in June (you can read it here), I reviewed the books I read throughout various Show Us Your Books linkups (which you can access on the archive page), and here's how my final list ended up.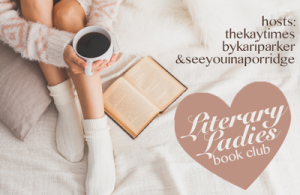 Some changes were made due to issues with the library being completely uncooperative but the main point is that I finished and I remembered to check in this time so that's a double win for all of us, really. Even if I didn't win the contest. Which is fine because this is literally the first challenge I've ever completed so it's a personal victory. And I rewarded myself by reading more books.
Seems like an appropriate prize, right?
And, on another note, I want to say that I love these types of challenges (Erin, I promise I'm going to work on your next one) because they get people reading books. Lots of books. Books that they might not have otherwise read. All reading is good reading, and diverse reading is even better (that said, if anyone is putting together a reading challenge and needs some category ideas, I've got them aplenty). So thank you to the hosts of all the challenges.
Final List
YA Book: Memoirs of a Teenage Amnesiac by Gabrielle Zevin
Book by a non-US Author: The Husband's Secret by Liane Moriarty
Book recommended by a blogger: Dirty Rush by Taylor Bell (recommended by Steph)
Book on my TBR list for more than a year: Shotgun Lovesongs by Nickolas Butler
Book with a kickass female lead: Let It Be by Chad Gayle (I was disappointed by the amount of kickassness of the female lead but later in the summer I read Girl Waits with Gun by Amy Stewart, which has a completely badass female lead–in fact, the book was about one of the first female deputy sheriffs in the U.S.–so even though it wasn't an official substitution, I feel like I legit completed this category)
Book that is or will be a movie or TV show: The Long Home by William Gay (you can see here for the casting for this one)
Book by a comedian/celebrity: I Regret Nothing by Jen Lancaster (original pick was Modern Romance by Aziz Ansari and Eric Klinenberg which I just received from the library last week, right before I left for Charlotte)
Book with a one word title: Confess by Colleen Hoover
Suspenseful/mystery/thriller book: Trust No One by Paul Cleave (original pick was Radiant Angel by Nelson DeMille which I just received from the library yesterday)
Book about summer/with summer in the title: Summerlong by Dean Bakopolous (who followed me on Twitter last week and I *might* have screamed)
Save