You know what you do when you're fumbling around for content and you have a pile of books on your nightstand and a husband who loves to tell you what the books are about soley based on the covers? You write the third edition of Judging Covers two weeks early (make sure you read the first edition and second edition if you haven't. My husband is…something else).
Book #1: Hate List by Jennifer Brown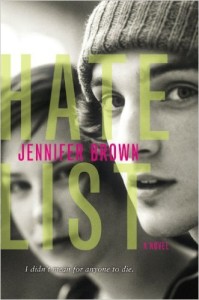 The Husband says: This bitch (seriously, we need to have a discussion about his calling every girl on the cover of a book "this bitch". Didn't realize until now how much that actually bothers me) is gonna kill somebody. They're scary. Those are hate eyes.
Goodreads says: Five months ago, Valerie Leftman's boyfriend, Nick, opened fire on their school cafeteria. Shot trying to stop him, Valerie inadvertently saved the life of a classmate, but was implicated in the shootings because of the list she helped create. A list of people and things she and Nick hated. The list he used to pick his targets.
Now, after a summer of seclusion, Val is forced to confront her guilt as she returns to school to complete her senior year. Haunted by the memory of the boyfriend she still loves and navigating rocky relationships with her family, former friends and the girl whose life she saved, Val must come to grips with the tragedy that took place and her role in it, in order to make amends and move on with her life.
Jana's note: Pretty decent accuracy on this one. Then again, it's not like the title or the cover took pains to hide the topic of the book.
Book #2: Bream Gives Me Hiccups & Other Stories by Jesse Eisenberg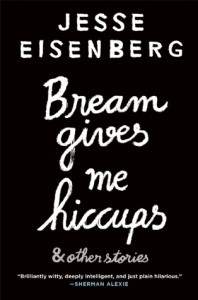 The Husband says: Is this Jesse Eisenberg the actor? (after running through references to Sunbeam bread and former baseball player Sid Bream and me yelling at him to stop being ridiculous and actually tell me what he thinks the book is about), I've got nothing. I don't even know what "Bream" is. It's a nonsense cover.
Goodreads says: Taking its title from a group of stories that begin the book, Bream Gives Me Hiccups moves from contemporary L.A. to the dormrooms of an American college to ancient Pompeii, throwing the reader into a universe of social misfits, reimagined scenes from history, and ridiculous overreactions. In one piece, a tense email exchange between a young man and his girlfriend is taken over by the man's sister, who is obsessed with the Bosnian genocide (The situation reminds me of a little historical blip called the Karadordevo agreement); in another, a college freshman forced to live with a roommate is stunned when one of her ramen packets goes missing (she didn't have "one" of my ramens. She had a chicken ramen); in another piece, Alexander Graham Bell has teething problems with his invention (I've been calling Mabel all day, she doesn't pick up! Yes, of course I dialed the right number – 2!).
Book #3: Infinite Home by Kathleen Alcott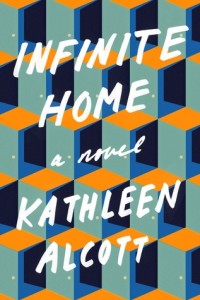 The Husband says: It's about Qbert's house because the game never ends and he just keeps jumping from square to square. Otherwise I have no clue what that cover means. It's the only possible thing.
Goodreads says: Edith is a widowed landlady who rents apartments in her Brooklyn brownstone to an unlikely collection of humans, all deeply in need of shelter. Crippled in various ways—in spirit, in mind, in body, in heart—the renters struggle to navigate daily existence, and soon come to realize that Edith's deteriorating mind, and the menacing presence of her estranged, unscrupulous son, Owen, is the greatest challenge they must confront together.
Faced with eviction by Owen and his designs on the building, the tenants—Paulie, an unusually disabled man and his burdened sister, Claudia; Edward, a misanthropic stand-up comic; Adeleine, a beautiful agoraphobe; Thomas, a young artist recovering from a stroke—must find in one another what the world has not yet offered or has taken from them: family, respite, security, worth, love. The threat to their home scatters them far from where they've begun, to an ascetic commune in Northern California, the motel rooms of depressed middle America, and a stunning natural phenomenon in Tennessee, endangering their lives and their visions of themselves along the way.
Book #4: Ready Player One by Ernest Cline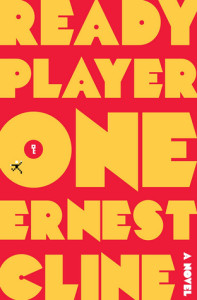 The Husband says: It's a video game with some little guy who's the character in the video game.
Goodreads says: In the year 2044, reality is an ugly place. The only time teenage Wade Watts really feels alive is when he's jacked into the virtual utopia known as the  OASIS. Wade's devoted his life to studying the puzzles hidden within this world's digital confines, puzzles that are based on their creator's obsession with the pop culture of decades past and that promise massive power and fortune to whoever can unlock them. When Wade stumbles upon the first clue, he finds himself beset by players willing to kill to take this ultimate prize. The race is on, and if Wade's going to survive, he'll have to win—and confront the real world he's always been so desperate to escape.
Jana's note: again, he was sort of close on this one. But he likes video games and it's a pretty obvious title. 
For the next edition, let me know if you are reading a book with a cover you'd like my husband to judge, especially if you read different types of books than I do. That should make for some interesting stuff.
Save