It's time once again for Judging Covers with The Husband! I mean, how can you not want to know his opinions after the last time and also from the man with whom I recently had this conversation:
Husband: What do you think are my chances for becoming the leader of a country?

Me: I think you have a better chance of leading a cult.

Husband: I *am* persuasive.
Exactly.
This time, we reviewed four books (well, eight, but I'm splitting it up into two posts mostly to protect your sanity because trust me). The first four, the ones we're looking at today, are books I am ecstatic to read, especially Undermajordomo Minor by Patrick deWitt who also wrote The Sisters Brothers, one of my all-time favorite books. So of course he had some things to say about that.
Let's explore. Same as last time, I'll show the cover, tell you what he said, and then give the Goodreads summary and let you judge for yourself how close he came (hint: not even close, bud. Also, points for me for throwing in a Breakfast Club reference because what goes better with books than one of my most favorite movies?)
Book #1: Undermajordomo Minor by Patrick deWitt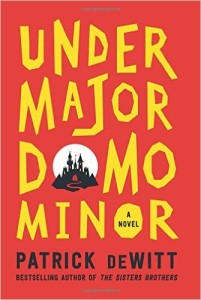 The Husband says: It's about fun at a nighttime castle. (Jana's note: I don't really know what the difference is between a nighttime castle and a regular castle)
Goodreads says: A love story, an adventure story, a fable without a moral, and an ink-black comedy of manners, international bestselling author Patrick deWitt's new novel is about a young man named Lucien (Lucy) Minor, who accepts employment at the foreboding Castle Von Aux. While tending to his new post as undermajordomo, he soon discovers the place harbours many dark secrets, not least of which is the whereabouts of the castle's master, Baron Von Aux.
Book #2: Dumplin' by Julie Murphy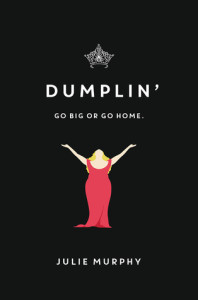 The Husband says: It's about a fat, rich bitch who likes to be taken care of. Or it's about the love of Chinese food. (Jana's note: We had a small tiff about his choice of words for this one)
Goodreads says: Self-proclaimed fat girl Willowdean Dickson (dubbed "Dumplin'" by her former beauty queen mom) has always been at home in her own skin. Her thoughts on having the ultimate bikini body? Put a bikini on your body. With her all-American beauty best friend, Ellen, by her side, things have always worked…until Will takes a job at Harpy's, the local fast-food joint. There she meets Private School Bo, a hot former jock. Will isn't surprised to find herself attracted to Bo. But she is surprised when he seems to like her back.
Instead of finding new heights of self-assurance in her relationship with Bo, Will starts to doubt herself. So she sets out to take back her confidence by doing the most horrifying thing she can imagine: entering the Miss Clover City beauty pageant—along with several other unlikely candidates—to show the world that she deserves to be up there as much as any twiggy girl does. Along the way, she'll shock the hell out of Clover City—and maybe herself most of all.
Book #3: Did You Ever Have a Family by Bill Clegg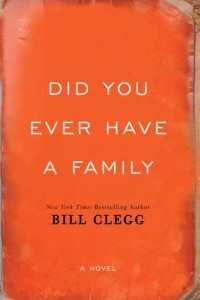 The Husband says: What the fuck is this? I'm not even sure what this cover is! It's like the last words a serial killer says to you.
Goodreads says: On the eve of her daughter's wedding, June Reid's life is completely devastated when a shocking disaster takes the lives of her daughter, her daughter's fiancé, her ex-husband, and her boyfriend, Luke—her entire family, all gone in a moment. And June is the only survivor.
Alone and directionless, June drives across the country, away from her small Connecticut town. In her wake, a community emerges, weaving a beautiful and surprising web of connections through shared heartbreak.
From the couple running a motel on the Pacific Ocean where June eventually settles into a quiet half-life, to the wedding's caterer whose bill has been forgotten, to Luke's mother, the shattered outcast of the town—everyone touched by the tragedy is changed as truths about their near and far histories finally come to light.
Book #4: Who Do You Love by Jennifer Weiner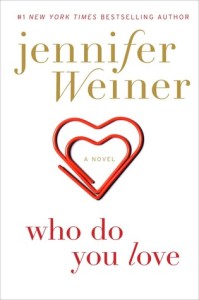 The Husband says: It's about an office romance. Because of paperclips.
Goodreads says: Rachel Blum and Andy Landis are eight years old when they meet late one night in an ER waiting room. Born with a congenital heart defect, Rachel is a veteran of hospitals, and she's intrigued by the boy who shows up all alone with a broken arm. He tells her his name. She tells him a story. After Andy's taken back to the emergency room and Rachel's sent back to her bed, they think they'll never see each other again.
Rachel, the beloved, popular, and protected daughter of two doting parents, grows up wanting for nothing in a fancy Florida suburb. Andy grows up poor in Philadelphia with a single mom and a rare talent that will let him become one of the best runners of his generation.
Over the course of three decades, through high school and college, marriages and divorces, from the pinnacles of victory and the heartbreak of defeat, Andy and Rachel will find each other again and again, until they are finally given a chance to decide whether love can surmount difference and distance and if they've been running toward each other all along.
Bonus conversation re: Go Set a Watchman by Harper Lee
Me: Do you know anything about this book?

Husband: No.

Me: Do you know who Harper Lee is?

Husband: Yes. The author of To Kill a Mockingbird. It says so on the cover.
P.S. Don't forget the anniversary edition of Show Us Your Books is October 13 and Steph and I have some surprises in store. So make sure you read and link up!
Save