Oh, hey. Guess who forgot to do this in November? It's a shame, too, because I had some good book covers. But we'll gloss over that and move right along to this edition for which my husband would like me to issue this disclaimer: The covers this month are terrible. They gave me nothing to work with.
Noted.
Book #1: A Prayer for Owen Meany by John Irving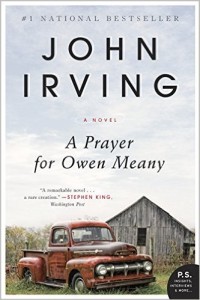 The Husband says: Maybe he needs to get his truck worked on because it's how he gets to work to support his family. Why the hell else would you put a truck on the cover? (Jana's note: The copy that I have from the library has George Clooney on the cover. This led to the both of us questioning why and my husband asking if Owen Meany looks like George Clooney. We still have no answer)
Goodreads says: John Irving's A Prayer for Owen Meany is the inspiring modern classic that introduced two of the author's most unforgettable characters, boys bonded forever in childhood: the stunted Owen Meany, whose life is touched by God, and the orphaned Johnny Wheelwright, whose life is touched by Owen. From the accident that links them to the mystery that follows them–and the martyrdom that parts them–the events of their lives form a tapestry of fate and faith in a novel that is Irving at his irresistible best.
Book #2: The Life Changing Magic of Tidying Up by Marie Kondo
The Husband says: This one is self-explanatory. It's about decluttering and organizing. And also using watercolors.
Goodreads says: Japanese cleaning consultant Marie Kondo takes tidying to a whole new level, promising that if you properly simplify and organize your home once, you'll never have to do it again. Most methods advocate a room-by-room or little-by-little approach, which doom you to pick away at your piles of stuff forever. The KonMari Method, with its revolutionary category-by-category system, leads to lasting results. In fact, none of Kondo's clients have lapsed (and she still has a three-month waiting list).
Book #3: Fates and Furies by Lauren Groff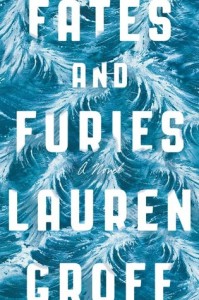 The Husband says: Something happening in an ocean or snowstorm because it's blue. And it looks like the ocean is whitecapping.
Goodreads says: At age twenty-two, Lotto and Mathilde are tall, glamorous, madly in love, and destined for greatness. A decade later, their marriage is still the envy of their friends, but with an electric thrill we understand that things are even more complicated and remarkable than they have seemed.
Book #4: Bootstrapper: From Broke to Badass on a Northern Michigan Farm by Mardi Jo Link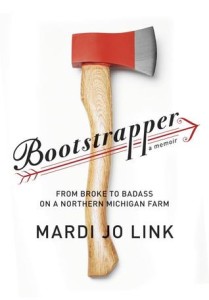 The Husband says: The front cover has an ax. The back cover as a log so there's a lot of lumberjacking going on. It's a tree farm. She goes and works on a tree farm.
Goodreads says: It's the summer of 2005, and Mardi Jo Link's dream of living the simple life has unraveled into debt, heartbreak, and perpetually ragged cuticles. Still, when she and her husband call it quits, leaving her more broke than ever, Link makes a seemingly impossible resolution: to hang on to her northern Michigan farm and continue to raise her boys on well water and wood chopping and dirt. Armed with an unfailing sense of humor and her three resolute accomplices, Link confronts blizzards and coyotes, learns about Zen divorce and the best way to butcher a hog, dominates a zucchini-growing contest and wins a year's supply of local bread, masters the art of bargain cooking, deals with rampaging poultry, and finds her way to a truly rich existence. Told with endless heart and candor, Bootstrapper is a story of motherhood and survival and self-discovery, of an indomitable woman who, against all the odds, holds on to what matters most.
Book #5: American Salvage by Bonnie Jo Campbell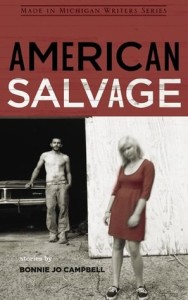 The Husband says: It's something about photography where someone goes out and takes pictures of people who don't normally get their pictures taken.
Goodreads says: American Salvage is rich with local color and peopled with rural characters who love and hate extravagantly. They know how to fix cars and washing machines, how to shoot and clean game, and how to cook up methamphetamine, but they have not figured out how to prosper in the twenty-first century. Through the complex inner lives of working-class characters, Bonnie Jo Campbell illustrates the desperation of post-industrial America, where wildlife, jobs, and whole ways of life go extinct and the people have no choice but to live off what is left behind.
And then, while showing him the cover for another book by Bonnie Jo Campbell, Mothers, Tell Your Daughters, we had this conversation:
Him: Is that a country song? (insert him singing)

Me: Why are you asking ME about country music? And please, good God, stop singing.
For more bookish entertainment courtesy of my husband, you can read his first, second, and third editions of Judging Covers. Eventually he'll get his own button and archive page. 
Save