Book haul=judging covers. And this time the child wanted in on the action.
Let's see how they did.
Book #1: Pretty Girls by Karen Slaughter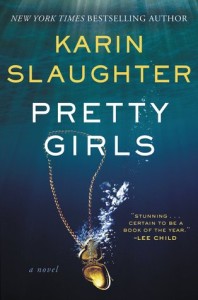 The child says: It's about someone who gets killed and the find the necklace at the bottom of the ocean. And they're pretty. And they're a girl.
The Husband says: Oh! Lee Child! That's the guy I read! (This was said in response to an endorsement on the cover). Me: That's your answer? The Husband: No. The book is about some bitch who's gonna die.
Goodreads says: More than twenty years ago, Claire and Lydia's teenaged sister Julia vanished without a trace. The two women have not spoken since, and now their lives could not be more different. Claire is the glamorous trophy wife of an Atlanta millionaire. Lydia, a single mother, dates an ex-con and struggles to make ends meet. But neither has recovered from the horror and heartbreak of their shared loss—a devastating wound that's cruelly ripped open when Claire's husband is killed.
The disappearance of a teenage girl and the murder of a middle-aged man, almost a quarter-century apart: what could connect them? Forming a wary truce, the surviving sisters look to the past to find the truth, unearthing the secrets that destroyed their family all those years ago . . . and uncovering the possibility of redemption, and revenge, where they least expect it.
Book #2: Crank by Ellen Hopkins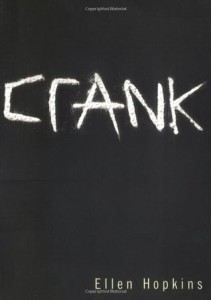 The child says: It looks creepy. Someone dying and a monster.
The Husband says: I think it's pretty obvious. Someone is going to be doing some drugs. A teacher who gets high on crank. Because the white letters on a black background means it's a blackboard.
Goodreads says: …Ellen Hopkins chronicles the turbulent and often disturbing relationship between Kristina, a character based on her own daughter, and the "monster," the highly addictive drug crystal meth, or "crank." Kristina is introduced to the drug while visiting her largely absent and ne'er-do-well father. While under the influence of the monster, Kristina discovers her sexy alter-ego, Bree: "there is no perfect daughter, / no gifted high school junior, / no Kristina Georgia Snow. / There is only Bree." Bree will do all the things good girl Kristina won't, including attracting the attention of dangerous boys who can provide her with a steady flow of crank.
Book #3: Skippy Dies by Paul Murray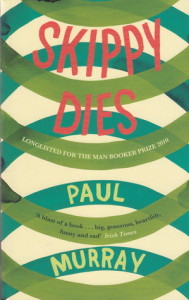 The child says: It's about someone named Skippy and he dies at the end and it's funny.
The Husband says: Skippy dies. Via Slinky.
Goodreads says: Ruprecht Van Doren is an overweight genius whose hobbies include the search for extra-terrestrial intelligence. Daniel 'Skippy' Juster is his roommate. In Seabrook College for Boys, nobody pays either of them much attention. But when Skippy falls for Lori, all kinds of people take an interest including Carl, the school psychopath.
Book #4: The Woman Who Stole My Life by Marian Keyes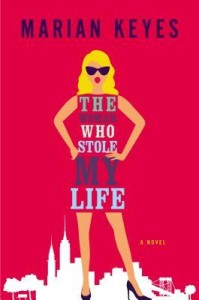 The child says: It's about a boy who lives in NYC and he comes across a woman who he starts dating but she kills him.
The Husband says: Probably about a person who is unhappy with their life and sees someone who is happy and decides "that's for me!". Like a chick version of The Talented Mr. Ripley.
Goodreads says: In her own words, Stella Sweeney is just "an ordinary woman living an ordinary life with her husband and two teenage kids," working for her sister in their neighborhood beauty salon. Until one day she is struck by a serious illness, landing her in the hospital for months.
After recovering, Stella finds out that her neurologist, Dr. Mannix Taylor, has compiled and self-published a memoir about her illness. Her discovery comes when she spots a photo of the finished copy in an American tabloid—and it's in the hands of the vice president's wife! As her relationship with Dr. Taylor gets more complicated, Stella struggles to figure out who she was before her illness, who she is now, and who she wants to be while relocating to New York City to pursue a career as a newly minted self-help memoirist.
Book #5: Fortune Smiles by Adam Johnson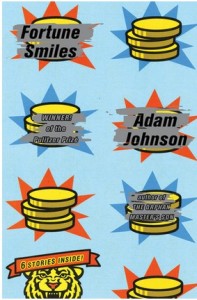 The child says: Someone who is an orphan and wants to get a lot of money and he gets his fortune and it involves a tiger.
The Husband says: Well, it's obvious that it's stories. So those stories are about scratch off lottery tickets, a sports team mascot, and maybe it's about making money as a mascot.
Goodreads says: These brand new stories from Johnson are typically comic and tender, absurd and totally universal. In post-Katrina Louisiana, a young man and his new girlfriend search for the mother of his son. In Palo Alto, a computer programmer whose wife has a rare disease finds solace in a digital copy of the recently assassinated President. In contemporary Berlin a former Stasi agent ponders his past.
And in "Interesting Facts", a woman with cancer rages against the idea of her family without her.
Jana says: I think he did a good job this month. I sense a slight improvement in his judging skills. Either that, or the covers are just more obvious. It's definitely one of those. And as for the child, she thinks every single book is somehow about death which means she knows her mama's choices very, very well.
Save