So now it's officially a family affair. Also when I capitalize "The Family" it makes me feel like I'm talking about some literary mafia who's terribly bad at determining the subject and plot of a book. Which is actually pretty accurate.
That was probably the laziest paragraph I've ever written. No matter, though, because the rest shall speak for itself.
This is a short list because most of the books I have lined up this month are eBooks (see, NetGalley! I do respect you! #pleasedontkickmeout)
Book #1: The Marauders by Tom Cooper (I received this through Blogging for Books)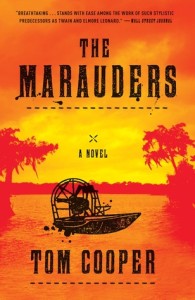 The Husband says: Five words: Fanboat pirates on the bayou. Looks legit.
The Child says: A dad or a husband who is deployed and it takes place in the 1900s and while he's deployed he discovers an island or different places and they're all in a group called The Marauders and he runs out of gas or something that runs his boat and he's trying to figure it out.
Goodreads says: When the BP oil spill devastates the Gulf coast, those who made a living by shrimping find themselves in dire straits. For the oddballs and lowlifes who inhabit the sleepy, working class bayou town of Jeannette,  these desperate circumstances serve as the catalyst that pushes them to enact whatever risky schemes they can dream up to reverse their fortunes. At the center of it all is Gus Lindquist, a pill-addicted, one armed treasure hunter obsessed with finding the lost treasure of pirate Jean Lafitte. His quest brings him into contact with a wide array of memorable characters, ranging from a couple of small time criminal potheads prone to hysterical banter, to the smooth-talking Oil company middleman out to bamboozle his own mother, to some drug smuggling psychopath twins, to a young man estranged from his father since his mother died in Hurricane Katrina. As the story progresses, these characters find themselves on a collision course with each other, and as the tension and action ramp up, it becomes clear that not all of them will survive these events.
Book #2: American Housewife: Stories by Helen Ellis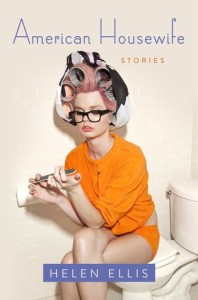 The Husband says: Frankly, it looks like a caricature poking fun at housewives and what people think is the life of housewives.
The Child says: A teenage woman who is trying to be like her mother or take care of younger siblings and maybe her sick dad and she lives in America and a lot times she needs time to relax and the only quiet place she can find around her house is the bathroom.
Goodreads says: Meet the women of American Housewife: they wear lipstick, pearls, and sunscreen, even when it's cloudy. They casserole. They pinwheel. They pump the salad spinner like it's a CPR dummy. And then they kill a party crasher, carefully stepping around the body to pull cookies out of the oven. These twelve irresistible stories take us from a haunted prewar Manhattan apartment building to the set of a rigged reality television show, from the unique initiation ritual of a book club to the getaway car of a pageant princess on the lam, from the gallery opening of a tinfoil artist to the fitting room of a legendary lingerie shop. Vicious, fresh, and nutty as a poisoned Goo Goo Cluster,American Housewife is an uproarious, pointed commentary on womanhood.
Book #3: The Readers of Broken Wheel Recommend by Katarina Bivald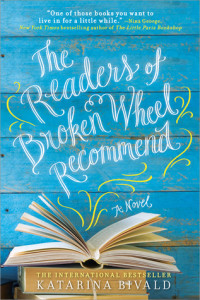 The Husband says: A small town group that kind of decides what books should and shouldn't be in the library. They're like the censorship group but not in the classic sense of a censorship group. They dictate what people should read and don't let them decide for themselves.
The Child says: A club that's called Broken Wheel and what they do is read a lot of old timey books and one of the books they all really didn't enjoy and the rest they really did so they go around trying to recommend books to readers who like to read history (if you're scratching your head at this one…me, too)
Goodreads says: Broken Wheel, Iowa, has never seen anyone like Sara, who traveled all the way from Sweden just to meet her pen pal, Amy. When she arrives, however, she finds that Amy's funeral has just ended. Luckily, the townspeople are happy to look after their bewildered tourist—even if they don't understand her peculiar need for books. Marooned in a farm town that's almost beyond repair, Sara starts a bookstore in honor of her friend's memory.
All she wants is to share the books she loves with the citizens of Broken Wheel and to convince them that reading is one of the great joys of life. But she makes some unconventional choices that could force a lot of secrets into the open and change things for everyone in town. Reminiscent of The Guernsey Literary and Potato Peel Pie Society, this is a warm, witty book about friendship, stories, and love.
Not their best month but admittedly I didn't give them much to work with. Here's hoping next month's is a bit better (humorwise or accuracy. I'll take either).
What are you reading?
Save