No fanfare. Let's jump right in.
Book #1: American Youth by Paul Lamarche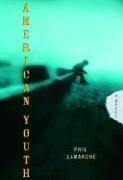 The husband says:  Lonely kids with nothing to do but hang out outside.
The child says: A kid who lives in a not very popular city and he's sitting somewhere with no friends and very lonely. Also he's got a gun it looks like.
Goodreads says: American Youth is a controlled, essential, and powerful tale of a teenager in southern New England who is confronted by a terrible moral dilemma following a firearms accident in his home. This tragedy earns him the admiration of a sinister gang of boys at his school and a girl associated with them. Set in a town riven by social and ideological tensions in an old rural culture in conflict with newcomers. This is a classic portrait of a young man struggling with the idea of identity and responsibility in an America ill at ease with itself.
Book #2: The Never Open Desert Diner by James Anderson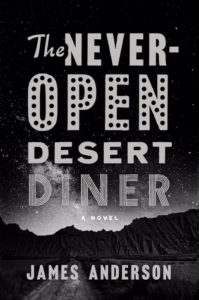 The husband says: It made me think this–it's a story about a group of UFO enthusiasts that meet nightly at a diner to talk about what they saw and their experiences.
The child says: I think it's about a bunch of explorers like Lewis and Clark who go to a mountainy kind of place and over the top of those mountains is nothing but empty plain open grass except for this one diner and they go inside to rest and see if there's any food and while they're in there, something happens and it locks them up and they can't get out.
Goodreads says: Ben Jones lives a quiet, hardscrabble life, working as a trucker on Route 117, a little-traveled road in a remote region of the Utah desert which serves as a haven for fugitives and others looking to hide from the world. For many of the desert's inhabitants, Ben's visits are their only contact with the outside world, and the only landmark worth noting is a once-famous roadside diner that hasn't opened in years.
Ben's routine is turned upside down when he stumbles across a beautiful woman named Claire playing a cello in an abandoned housing development. He can tell that she's fleeing something in her past — a dark secret that pushed her to the end of the earth — but despite his better judgment he is inexorably drawn to her.
As Ben and Claire fall in love, specters from her past begin to resurface, with serious and life-threatening consequences not only for them both, but for others who have made this desert their sanctuary. Dangerous men come looking for her, and as they turn Route 117 upside down in their search, the long-buried secrets of those who've laid claim to this desert come to light, bringing Ben and the other locals into deadly conflict with Claire's pursuers. Ultimately, the answers they all seek are connected to the desert's greatest mystery — what really happened all those years ago at the never-open desert diner?
Book #3: The Two-Family House by Linda Cohen Loigman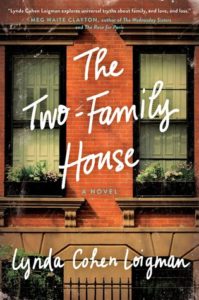 The husband says: By the looks of it, it occurs in a city where two families couldn't afford to have their own place so they decide to move in together and all the shenanigans that occur.
The child says: I think it is about two families who are living in the city and choose to live in an old-timey but nice home and there's a door that connects the two apartments and one day something happens and the door locks and they can't get it open and how they're able to survive without the door opening.
Goodreads says: Brooklyn, 1947: in the midst of a blizzard, in a two-family brownstone, two babies are born minutes apart to two women. They are sisters by marriage with an impenetrable bond forged before and during that dramatic night; but as the years progress, small cracks start to appear and their once deep friendship begins to unravel. No one knows why, and no one can stop it. One misguided choice; one moment of tragedy. Heartbreak wars with happiness and almost but not quite wins.
Book #4: Why We Came to the City by Kristopher Jansma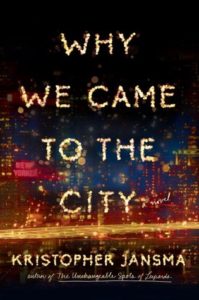 The husband says: It's about some people who are coming from a no-nothing place to the city because they want to live their dream of having their name in lights doing something, probably involving jazz hands.
The child says: I think this about a family who comes from a completely random place that's really tiny in the whole US and they go to the city to visit and see what a bigger place with more of a name than their home. They see all the cool stuff there and they try to figure out if they can move there or not so they can be more in the spotlight than the shadows.
Goodreads says: December, 2008. A heavy snowstorm is blowing through Manhattan and the economy is on the brink of collapse, but none of that matters to a handful of guests at a posh holiday party. Five years after their college graduation, the fiercely devoted friends at the heart of this richly absorbing novel remain as inseparable as ever: editor and social butterfly Sara Sherman, her troubled astronomer boyfriend George Murphy, loudmouth poet Jacob Blaumann, classics major turned investment banker William Cho, and Irene Richmond, an enchanting artist with an inscrutable past.
Amid cheerful revelry and free-flowing champagne, the friends toast themselves and the new year ahead—a year that holds many surprises in store. They must navigate ever-shifting relationships with the city and with one another, determined to push onward in pursuit of their precarious dreams. And when a devastating blow brings their momentum to a halt, the group is forced to reexamine their aspirations and chart new paths through unexpected losses.
I also have a few other books on my nightstand both finished and unfinished but I figured 4 was a good number.
How do you guys think they did figuring out the plots? 
Save