This was supposed to happen last week and I think also the week before but bronchitis and forgetful and my family's schedule often sucks. So, better late than never.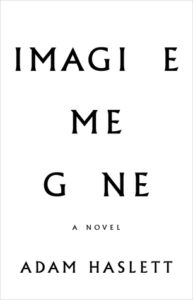 Imagine Me Gone by Adam Haslett
The Child says: It's about someone who doesn't like their life so far and what's happening to them and they come across this place and they start to imagine themselves gone and away from everything.
The Husband says: Seems pretty self explanatory. About someone who says imagine me gone and the other person says no, I don't want to do that. They're like the other half.
Goodreads says: When Margaret's fiancé, John, is hospitalized for depression in 1960s London, she faces a choice: carry on with their plans despite what she now knows of his condition, or back away from the suffering it may bring her. She decides to marry him. Imagine Me Gone is the unforgettable story of what unfolds from this act of love and faith. At the heart of it is their eldest son, Michael, a brilliant, anxious music fanatic who makes sense of the world through parody. Over the span of decades, his younger siblings–the savvy and responsible Celia and the ambitious and tightly controlled Alec–struggle along with their mother to care for Michael's increasingly troubled and precarious existence.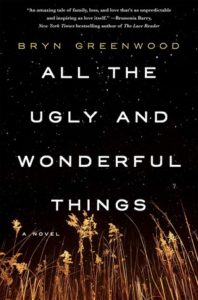 All the Ugly and Wonderful Things by Bryn Greenwood
The Child says: I think it's about a family from a prairie and they're traveling to Oklahoma to start a new life but it's not how they expected it and the book is about what happened to them.
The Husband says: By the looks of it, it's about being out on the prairie because they're growing wheat and it's all the good things and bad things of farm livin'.
Goodreads says: As the daughter of a meth dealer, Wavy knows not to trust people, not even her own parents. Struggling to raise her little brother, eight-year-old Wavy is the only responsible "adult" around. She finds peace in the starry Midwestern night sky above the fields behind her house. One night everything changes when she witnesses one of her father's thugs, Kellen, a tattooed ex-con with a heart of gold, wreck his motorcycle. What follows is a powerful and shocking love story between two unlikely people that asks tough questions, reminding us of all the ugly and wonderful things that life has to offer.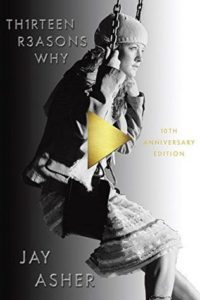 Thirteen Reasons Why by Jay Asher
The Child says: It's about a woman or teenager who is does have a lot of problems with herself and she doesn't get very much help from her family and she has 13 reasons why she has these problems and what's going on in her life that she can't get rid of them.
The Husband says: It's about a woman who has a lot of problems and she doesn't get rid of her problems because she has 13 reasons why she can't. (Slams book down, confident that he got it right)
Goodreads says: Clay Jensen returns home from school to find a strange package with his name on it lying on his porch. Inside he discovers several cassette tapes recorded by Hannah Baker–his classmate and crush–who committed suicide two weeks earlier. Hannah's voice tells him that there are thirteen reasons why she decided to end her life. Clay is one of them. If he listens, he'll find out why. Clay spends the night crisscrossing his town with Hannah as his guide. He becomes a firsthand witness to Hannah's pain, and as he follows Hannah's recorded words throughout his town, what he discovers changes his life forever.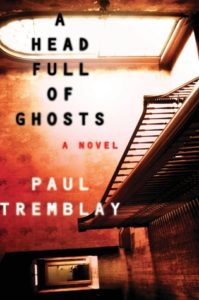 Head Full of Ghosts by Paul Tremblay
The Child says: It's about a place like out West and there are some crazy people who live there but the reason why they're crazy is because the place is haunted and throughout the time they're in the house, they start to develop ghosts in their mind and it's about their adventure in a haunted house.
The Husband says: Let me tell you about this book. It's about a crazy person who's schizophrenic who has all of these ghosts or people who aren't real in their head and how they view things.
Goodreads says: To her parents' despair, the doctors are unable to stop Marjorie's descent into madness. As their stable home devolves into a house of horrors, they reluctantly turn to a local Catholic priest for help. Father Wanderly suggests an exorcism; he believes the vulnerable teenager is the victim of demonic possession. He also contacts a production company that is eager to document the Barretts' plight. With John, Marjorie's father, out of work for more than a year and the medical bills looming, the family agrees to be filmed, and soon find themselves the unwitting stars of The Possession, a hit reality television show. When events in the Barrett household explode in tragedy, the show and the shocking incidents it captures become the stuff of urban legend.
Fifteen years later, a bestselling writer interviews Marjorie's younger sister, Merry. As she recalls those long ago events that took place when she was just eight years old, long-buried secrets and painful memories that clash with what was broadcast on television begin to surface–and a mind-bending tale of psychological horror is unleashed, raising vexing questions about memory and reality, science and religion, and the very nature of evil.
Jana says: I really have no idea how I stacked all these mental illness books into one month of reading. Should get interesting.
How do you guys think they did?
Save