Roughly a month ago, I shared that I was doing a spending freeze in January. The purpose was to regain mindful control of my spending. This didn't mean I couldn't spend money; it simply meant there had to be a reason for it and if I couldn't give myself a good enough reason, or there was no point other my own laziness or inability to control myself, I prohibited myself from the purchase. I didn't care about savings or anything else other than getting back into the habit of paying attention to my money.
I gave myself 3 rules:
Don't spend money on unplanned expenses
Gift cards are cheating
Stuff other people buy me is not (ex., husband bringing me coffee)
That's it. That's all I had to do. Not difficult at all, right?
Right.
So let's talk about how I did.
I did buy some things:
1/5ish (I forgot to write down the exact date but it was early in the month): $26.99 at Ulta. This was for gigantic bottles of my shampoo and conditioner that ordinarily run around $28/bottle and were on sale plus I had $9.50 in coupons and reward points. I now do not have to buy shampoo or conditioner until maybe the summer since I had bought two bottles at the same price at the end of December.
1/9: $12 for a subscription to The New Yorker. I read a ton of articles from this magazine and I was tired of running out of my monthly free ones. So now they come to me, unlimited.
1/13: $255 for tickets to see Billy Joel at Madison Square Garden. I know. It's a lot for a concert. But it's item #2 on my life to-do list to see Billy Joel at home (I've seen him in Philly twice) because growing up in New York, he's basically a religion. When the tickets became available, we bought them without thinking twice.
1/14: $12 on a bow keychain for my daughter. She's a cheerleader. We were at a competition. This happens sometimes. I think I was also still on my Billy Joel high because I ordinarily have zero problems telling her no.
1/25: $2.39 for an iced coffee and $14.40 for a book (Bottomland by Michelle Hoover). The coffee because I just wanted it and the book because it's not available at my library in any form except audiobook and I don't do those. I also supported a local indie bookstore by doing so.
Total without concert tickets (I'm not including them since they were planned for; I just wasn't sure when we'd actually be able to buy them): $67.78
I'm completely pleased with how I did and since the point was to fix a bad habit, I'd say I succeeded. I don't see myself going back to what I was doing because it didn't leave money for the things I actually want to buy and now it's there.
Which is awesome.
30 Day Challenge #2
With that out of the way, let's talk about my February challenge.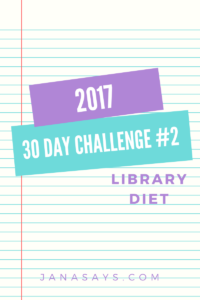 This month, I'm not so much aiming to fix a bad habit but more to use up what I have and get my reading pile back down to something normal (rather than the impending avalanche that lives on my nightstand). To accomplish that, I'm going on a library diet. 
It's true.
For the next 30 days, I am not allowed to put a book on hold (the ones that are currently there are fine), get books from NetGalley, Kindle First, friends (except one from Steph that we talked about last month), or anywhere else. I currently have 6 library books on my nightstand, 5 more on hold, 4 NetGalley books, and roughly 2394370 books I've bought. It's out of hand and I need to rein it in. I have no shortage of what to read not to mention my stacks are anxiety inducing and I'm three books short of having to move my nightstand lamp to the floor to make room.
If I'm being honest, I'm panicked as hell at the thought of not putting books on hold but it's become a legit problem. I read fast but not that fast and book FOMO is real. I used to not care and now I care too much. I need to stop caring and read what I want, when I want.
February's challenge should help with that.
That's it. Wish me luck!
Have you ever done a library diet? How'd it go? Any helpful hints?
Save