GUYS. It's my very first author interview and I'm thrilled that it's with my friend Nick. I've known Nick for several years now (we actually met through blogging, back when we both wrote about money) and he's an all-around great guy with a crazy amount of talent and humor and insight. He's been working for a couple of years now on a project (book, blog, podcast…the works) called Confessions of a Terrible Husband. The book had its official launch over the weekend in Nashville and I highly recommend you pick up a copy. I had the privilege of reading an advanced copy and let me tell you, it's a great read. Quick and funny and well-written and there's something in it that anyone in any kind of relationship can learn from.
But that's enough of that. Let's talk to Nick.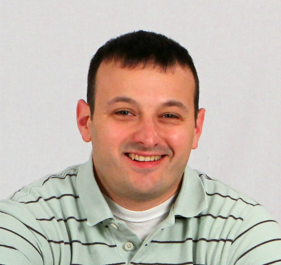 Jana: Although we're friends, some of my readers might not know about you or your blog. Tell us a bit about both.
Nick: Sure! I've been married for three wonderful years, seven years total, to a pretty patient woman who put up with me being virtually checked out off and on (mostly on) for four years of my marriage. We have two kids, one who just turned six and another who is three (Jana's note: Nick has a podcast, Five Minutes with Dad, that he does with his kids. You should check it out). Professionally, I'm a lawyer, but at nights and on weekends I provide content, study, structure, and support to help real people improve their relationships. I use my knowledge as a busy lawyer and businessman to help business owners set their businesses in a way to honor their family commitments so they have a business that supports their family goals, not the other way around. And I will use my knowledge and experience as a terrible husband to help others find the knowledge and perspective to improve their relationship through constant growth and support.
I write regularly on my blog, Confessions of a Terrible Husband: Lessons Learned from a Lumpy Couch, at
www.ATerribleHusband.com
along with a team of other writers who are all committed to sharing experiences to help others improve their relationships.
Jana: How'd you come up with the idea for this project?
Nick: Confessions of a Terrible Husband was born in a converted barn in Franklin, TN. I was attending a conference led by Dan Miller, NY Times bestselling author of 48 Days to the Work You Love and Wisdom Meets Passion. I was there to beef up my coaching practice and add a layer of connection for my law clients. I got all that out of it, for sure, left with a much larger lesson after watching how Dan interacted with his wife, Joanne, over the course of the two days. I couldn't put my finger on it at first and then realized that I had been focusing on all the wrong things in my marriage up to that point.
Jana: How long did it take you to complete?
Nick: 2 years and 2 days.
Jana: What can we expect from your book?
Nick: A new perspective on improving marriages. So many marriage books talk about theory, concepts, or steps written by scholars, therapists, or researchers. They're great and serve an awesome purpose. I have grown and learned a ton from many of those books. Confessions of a Terrible Husband turns things around and lets you look into the mind (and home) of a regular guy who thought he knew everything, only to realize he was wrong. It shows you how you can have all the right intentions, do all the "big things" right, and still end up "bad at being a husband," like I was for so long. It tells you how I went from dead at the scene of a car accident, to a high-rise corner office overlooking Central Park, to rock bottom, and then tells you exactly what I was doing wrong and how I continue to dig myself out. You see that process unfold through the eyes of a guy with a wife, two kids, full-time job, and side business, who still made the time and effort to grow in his most important role.
Jana: Who should read/use it?
Nick: The book is for people who are open to the idea that they might be the problem in their relationship. It is particularly directed people who are willing to look at what they actually feel, say, and do to identify the little things that they do over and over again – their Confessions – that cause their relationships to suffer. And the people who will get the most out of it are those who are willing to take action to improve their relationship by taking personal responsibility for overcoming their Confessions.
Jana: Where can people buy your book? Is it only an eBook or are there "real" copies available?
Nick:
The book is on special through June at
www.ATerribleHusband.com/Book
.
  It comes with a few cool bonuses if you order in June on that page. If you order after June on that page your copy will be signed by me before shipping.  It is also
on Amazon
in eBook and print versions.
Jana: How can people get in touch with you or learn more about the project?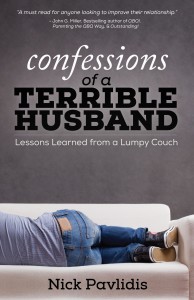 Save