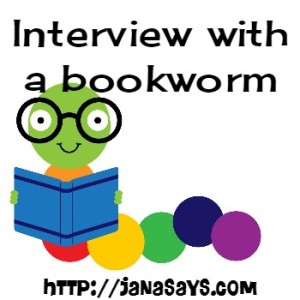 Happy Monday! What better way to start a week than with a bookworm interview. I know we usually do these on Tuesdays but tomorrow is Show Us Your Books! This week we're chatting with Kristin from Kristin's Knook. You should visit her when you're done reading her interview and say hi. You should also read all the past interviews in case you're new to the series or you want to catch up with old favorites.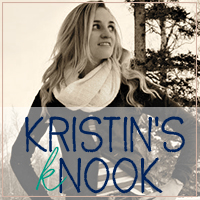 Hi, I'm Kristin and my blog is Kristin's kNook. I write about our army life, my experiences as a teacher, our remodeling project, and our dogs. There's recipes and book-talk too. A little bit of everything.
Jana: Why do you enjoy reading?
Kristin: As a pre-teen, I spent every spare cent I had on books. I would go to Waldenbooks every weekend, if I could swing it, and buy a new book. I would be done with it by the end of the weekend and have to scrounge up $5 more to buy another book the next weekend. On a good week, I could come up with $10 and buy two. I think, especially as a kid, I liked reading because it took me somewhere else. Your travel and experience options are limited as a child. Reading is necessary.
Now I read to keep accumulating these experiences. How could you not want to be transported somewhere else by a book?
Jana: How do you decide what to read?
Kristin: I look for recommendations from bloggers and friends. Also, I browse Audible a lot to see what is recommended for me. Sometimes I'll get those books in audio form or I'll look at the library. Goodreads helps me keep track. I will honestly read a little bit of everything. I'm picky, but not picky about genre.
Jana: Who are some of your favorite authors and/or genres?
Kristin: I like fiction and non-fiction. Autobiographies are good. Historical fiction is probably my favorite, but I don't have a favorite historical fiction author. I'm not a fan of anything that could be turned into a romantic comedy. I do like Rainbow Rowell, Gretchen Rubin, Rebecca Stead, Liane Moriarity, Bill O'Reilly, Shauna Niequist, and Charlaine Harris (with the exception of the awful-last-two-Sookie-books) just to name a few. I told you, I'll read just about anything.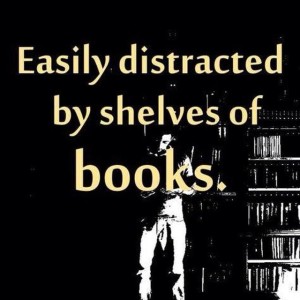 Jana: What's your favorite book or a book you always recommend?
Kristin: At the moment, I'd recommend The Girl on the Train if you are interested in fiction or maybe something by Rainbow Rowell. I always recommend The Wilder Life to Little House fans and I think Gretchen Rubin's books on happiness and habits can apply to anyone. For kids, I usually recommend Doreen Cronin, Jennifer L. Holm, and Rebecca Stead. Jana's note: YES to Rainbow Rowell, especially Eleanor and Park and Attachments. Read those.
Jana: Do you watch movie adaptations of books? What do you think of them?
Kristin: It depends how much I liked the book. Oftentimes, I'll just see the movie if I have no interest in reading the book. For example, I don't like the book Pride and Prejudice, but I love the Colin Firth movie adaptation. The Hunger Games books were fantastic and the movies did them about as much justice as possible. I couldn't stand the book Divergent, but I really liked the movie. I take this on a case-by-case basis.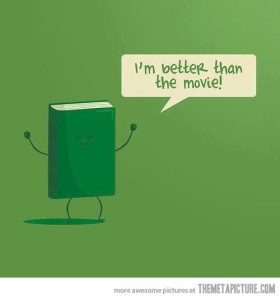 Jana:Ebooks, paper books, audiobooks, or a combination? Why?
Kristin: Audiobooks or paper books. I think I've only read two books on my Kindle app. Since I have a long-ish commute to work, the only surefire way I know I'll read is if I'm listening to a book. It's foolproof. Unless I don't like the book. Then it's a long painful drive. But I don't think I've ever not (eventually) finished an audiobook. I remember hating All the Light We Cannot See, yet I kept going with it because I didn't want to listen to the radio. Paper books are easier to put down if I don't like them. Also, I'm one of those over-organized people who will spend more time on the process of doing something than the actual task of completing it. For example, I'll look at my stack of books and maybe even carry one around with me, but rarely start reading. Especially if I'm busy with other things.
Jana: Do you use the library or buy books?
Kristin: I prefer using a library just because it's free, but I buy a lot of audiobooks from Audible. It's just a matter of cost vs. convenience. It's worth it to me. I pay about $10-12 a book when all is said and done. I can live with that. I only buy actual paper books if I know I'm going to love it. Case in point: Pioneer Girl, the giant coffee table book of Laura Ingalls Wilder's original manuscript. I pre-ordered months in advance.
Jana: Does it offend you when people call you a bookworm or book nerd? Why or why not?
Kristin: I don't think I've been called these names. If I have, it was in high school when everyone else was busy not getting an education, and I was making my way through whatever I could find in the meager holdings of the small library. I'm so glad we encourage reading in schools today. Back then, we didn't past 5th or 6th grade. These days, when I force my students to read, I sit and read with them. I manage to get through a lot of books this way too.
Jana: How do you find time to read?
Kristin: Listening to audiobooks is a Godsend. It magically creates purpose out of otherwise wasted time. That's my biggest secret, but I know many people don't care for audiobooks. I usually can form a habit by forcing myself to do something, so that would be my advice to someone looking to make time to read. I originally set a timer for 20 minutes every night and I read before bed. Soon enough, it was an intentional habit and I didn't have to bother with the timer. I think if you want to make time to read, you will make time to read. We all have our choices and priorities (sorry, I really sound like a teacher there). Also, accountability helps. I share the books I read on my blog once a month and that keeps me reading.
Jana: What's one piece of advice you'd give to people who say they don't enjoy reading or don't have time to read?
Kristin: See above. Set a goal, keep a list, take on a reading challenge of some sort to jump-start things, etc.