Last week, I decided to participate in Money Saving Mom's Make It From Scratch Week. I already make most of our food from scratch but there are some things that I'd been slacking on, so this was a great opportunity (and motivation and incentive) to give it a try (and to restart the pioneer project that kind of fell by the wayside over the summer when we moved). I made it through 4 of the 5 projects I had planned and only one of them turned out terrible. I consider that a major success. And I didn't have to spend much money to complete the projects, which I also consider a major success.
Here's what I did, along with the links to the pins that gave me the ideas:
Onion soup mix–I made this so I could make onion dip without those little packets. Either I messed up by using Greek yogurt instead of sour cream or this mix is not intended for that purpose. Doesn't really matter, though, because it turned out terrible and also the turmeric made it an unappetizing yellow. I do not suggest you follow ink my footsteps and make this. However, if you have a good recipe for homemade onion dip, I'd love to see it.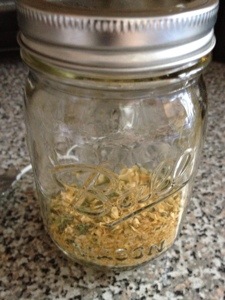 Breakfast sandwiches–now that we live 15 minutes from my husband's work, he feels that leaving 10 minutes before he needs to be there is sufficient time. I don't get that math but math has never really been my strong suit. In any event, he doesn't eat breakfast at home so in order to make sure that he does, in fact, eat breakfast, I made these so he can just heat them up at work and chow at his desk. And I eat them, too. Also I cooked the eggs in a muffin tin. That was fun.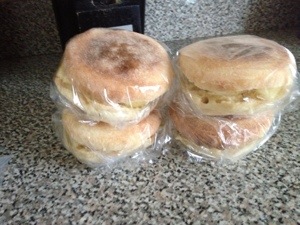 Oatmeal packets–also a breakfast idea for my husband as I do not eat oatmeal, nor does our daughter. Because we're smart and oatmeal is gross. In addition to leaving promptly 5 minutes late every day, my husband also does not pack his lunch the night before (please do not get on me to do it. He is a grown man and can put leftovers and fruit in a lunch box by himself) and this way he doesn't have to spend extra time putting breakfast together, too. He can throw a bag in his lunchbox and heat it up at work. It also gives variety to the breakfast sandwiches.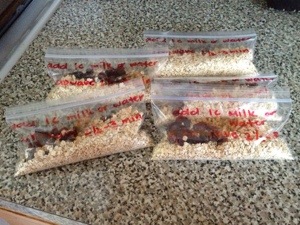 Salsa–the previous owners of our house didn't just leave use carpet stains and dog hair. They also left us a dying tomato plant that we've brought back to life and now it won't stop giving us tomatoes. They come off at a rate of about 5000 a day. Before one round went bad, and some have because they produce faster than we can eat them, I decided to make salsa since I actually had all the ingredients in the house. Even fresh cilantro. Which is a pain in the ass to work with.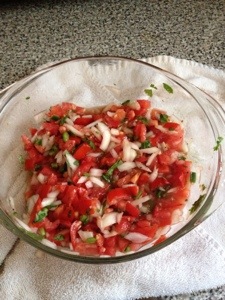 Glitter barrettes–didn't get a chance to make these. But they're on my list for the next installment of Pinterest project Tuesday. Which I totally need to resurrect.
Did you participate in the challenge? What did you make? And would you be interested in following along on my pioneer project?