If you want a full recap of the Grammys, my girl Erin has a good one. If you want a full list of snarky comments about the Grammys, then stay here.
This past Sunday was music's crowning night–the Grammys. As a fan of music, I always look forward to this show if for nothing more than the performances. I love seeing talented performers from various genres coming together and singing and playing and showcasing just how amazing they can be. I don't put much stock in the awards for reasons that are boring, and like all awards shows, the banter between presenters plucks every one of my nerves but I can usually deal with it because performances.
This year, though, left me feeling all kinds of ways. Here's a few of my thoughts, not in chronological order of the show because I'm old and it happened a few days ago.
Oh, look. Taylor's opening the show. What a fucking surprise. The only other surprise would be if Beyonce opened.
I love LL. He's the only one who should host this show forever and ever.
OOOH! A tribute to Lionel Richie! I like Lionel Richie!
Is it just me or is Demi Lovato completely oversinging? She has a good voice but this isn't doing it for me. Also, is she the one dating Fez from That 70s Show? I can't tell the difference between a lot of these pop singers.
I don't know any of these songs. At all. Maybe one or two. But if this is any indication of the state of music, I'm glad I live in a rock music bubble. Because this shit sucks.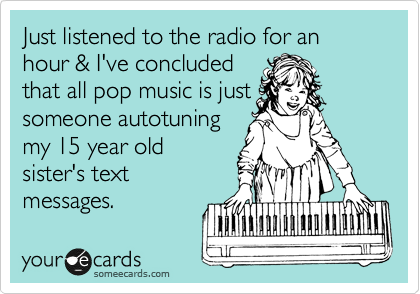 HELLOOO, guy singing with Carrie Underwood. You are pretty to look at (no, Husband, I don't care that he went to the Kansas City Chiefs's training camp. But that is a fun little fact I will file away).
Does Ariana Grande have a cold? She sounds stuffy. Poor girl.
I'm not quite sure what Kendrick Lamar just said but his performance was pretty cool.
Did I just not hate Bieber's performance? I can't tell anyone that. It'll have to be my secret shame.
Oh, this tribute to Glenn Frey is making me teary. Even if Jackson Browne just screwed up the lyrics.
FINALLY!! I get to see what all the fuss is about with Hamilton.
I totally get what all the fuss is about with Hamilton!! (checks broadway.com for tickets and realizes that I'll probably never see Hamilton)
Alabama Shakes just won for best rock record? Who the fuck is Alabama Shakes?
What the hell was up with that Gwen Stefani song? It started off fun and reminding me of 90s Gwen but then it crapped out. And I want to understand the video but I think I'm too old to process all that.
Pink is covering "White Rabbit"?! Badass woman covering badass woman? Erin and I were on point with those selections!!! WE SHOULD BE VOTING ON THE AWARDS. (note: this was in a commercial. It's okay if you missed it)
Elle King didn't win anything. Disappointing.
Well, look at that. Meghan Trainor won Best New Artist. I wonder if that Best New Artist curse will apply to her.
Adele's having some tech difficulties but I don't care because I am mesmerized by the talent of her hair and makeup people. They should win an award because her hair and makeup always look amazing.
I am really enjoying Gaga's performance. I'm glad she's doing it because I really appreciate how seriously she takes her performing responsibilities.
Why is all the rock music stuff buried at the end of the show? Annoying.
Hollywood Vampire is a weird supergroup and the best thing I can say about that performance was a) glad to see Lemmy getting a tribute; b) Johnny Depp CAN hang with them; and c) at least now when I say that at the end of the day my makeup makes me look like Alice Cooper, the youngsters will know what I'm talking about.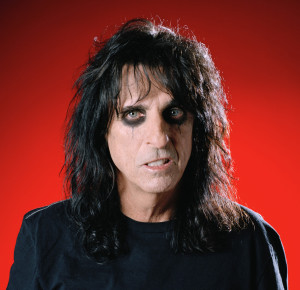 Oh. There's the Beyonce appearance we all knew was coming.
What did Bruno Mars just shout? Does he think they're besties now because they performed together at the Super Bowl?
YES, TAYLOR!!! That was the best "fuck you" to Kanye ever!!!
I hate myself for staying up to watch the whole thing, especially with this closing performance. Joe Perry playing guitar with Pitbull is like a second rate version of Slash playing guitar for Janet Jackson (on "Black Cat") and Sofia Vergara dancing around dressed like a taxi while douchebag Robin Thicke sings a few notes is basically the worst choice ever.

Also, overheard at my house while watching the show with The Child:
Child: Is that a tribute to Richie Lionelson?

Husband: Lionel Richie. Richie Lionelson works in a bowling alley.
Did you guys watch the Grammys? What did you think?
Save