For those who are new or who might not know, I am Jewish. Which means that growing up, I didn't have Santa or the joy of Christmas morning or even got remotely infected with the Christmas spirit (where I grew up in New York was predominately Jewish, too). The closest I came to celebrating Christmas was my freshman year of high school when I flew to Atlanta to with 2 of my friends to visit another friend who had moved there. She wasn't Jewish so we got to experience her tree and all that good stuff.
I liked that.
As for my family, we had some great Christmas traditions that typically involved eating Chinese food and going to the movies on Christmas Day and also celebrating Hanukkah for eight crazy nights (and by crazy, I mean lighting candles and giving each other presents. We know how to party) because that's what good Jews do. And I figured those would always be my traditions.
Then I met my husband. And he's definitely not Jewish. So we celebrate Christmas now and have different traditions and we're probably a handful of houses that have a Star of David ornament on their Christmas tree.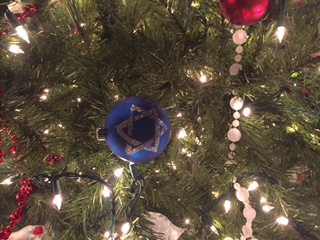 Now that we've been together for 19 Christmases (including this one), it's hard to imagine a time when Christmas wasn't part of my December.
Christmas lights. Sure, there were houses where I grew up that decorated for Christmas, including two that went absolutely overboard (in a good, only moderately tacky way) with their outdoor light displays, but now that I celebrate Christmas, I appreciate them more. They're just prettier for reasons I'm struggling to explain. Also included in this: home decor, Christmas scented candles,
The food. Holy hell, THIS is what I missed out on. Fudge. Christmas cookies. Fudge. Christmas dinner which is like Thanksgiving part 2. Gingerbread houses and men with frosting and candy and assorted other deliciousness. Fudge. Sure, potato latkes are fried perfection but they pale in comparison to all the other foods.  Sugar and fatness galore. This is part of why my yoga pants are my favorite. One caveat: No, absolutely no, eggnog for me. That shit is revolting.
Bonus: Here's an easy recipe I found on Pinterest for fudge: combine 3 cups chocolate chips and one can condensed sweetened milk in a microwave safe bowl. Microwave on medium power for one minute, stir, repeat until chocolate is dissolved in milk. Spread on wax paper in 9×13 dish, and chill for 1-2 hours. Cut into squares. Jana inspired variations: replace one cup chocolate chips with mint chips, peanut butter chips, or replace regular chocolate with white chocolate. This is mint chocolate with crushed candy canes. It tastes as delicious as it looks.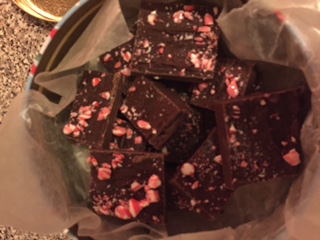 Movies. I had watched Frosty and Rudolph and the Grinch as a kid but now, as an adult with a child and as someone who actually celebrates the holiday, the movies are infinitely more enjoyable. And then there's the whole host of Christmas movies that never meant anything when I was a kid but now I can't imagine the holiday without: A Christmas Story (true story: I saw for the first time in 7th grade English class), Christmas Vacation, A Muppet Christmas Carol, and Emmett Otter's Jugband Christmas (which is really just The Gift of the Magi but with Muppets. I had this epiphany last year).
School vacations. Clearly, as a kid, I loved Christmas even as a Jew because thank you, two weeks off from school. Hard to beat that. Now the two weeks off from school means no early morning fights with the child to get her to school on time, no homework to help with, no lunches to pack, no wasting my time in the afternoon pick-up line, and no wondering what mystery object or paper will come home in her backpack. It really is a wonderful time of the year.
Presents. It sounds cliche, but I definitely love buying presents for others more than I like getting them for myself. I find it enjoyable to search for stuff my family wouldn't buy for themselves, and the look on my daughter's face when she opens her gifts is simply priceless. We also have a family tradition of buying for Toys for Tots, and knowing that some kid somewhere else is having a similar reaction to my daughter makes me happy, knowing that I did that (if you want to read about the time doing something like this really made a difference, read this post).
Two Christmas traditions I'm still working on: sending cards and enjoying holiday music. I'm too lazy to send cards and the music doesn't do it for me. I typically avoid it as much as possible. However. There are some songs that I do enjoy and in two weeks, we'll go into my favorite Christmas songs. They're probably not what you expect.
But so you don't think I'm totally grinchy, here's one that I love. It's easy to figure out why.

 What are some of your favorite things about Christmas? What recipes should I try?
inking up with Amanda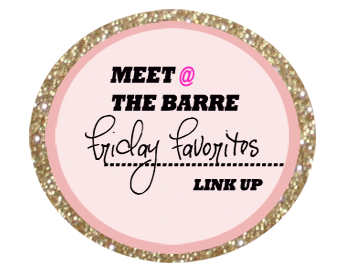 Save