I've discussed my favorite things about Christmas (recently, in fact. You can check that out here if you'd like). I'll admit there are a few things I'm kind of Grinchy about, like Christmas music and the whole Santa thing is still weird to me (although I'm pretty good about it I have a confession: I can't wait until my daughter is old enough to know better because keeping up the charade is exhausting) and by this time of year, I'm 87% sick of Christmas movies but I do my best to fake it until December 25th because of the child. It's still magical and awesome to her and I have found that a little bit of faking it goes a long way in retaining the Christmas spirit when really all I want to do is punch an elf in the face.
For myself, I try to focus on things like the smell of Christmas scented candles, 24 hours of A Christmas Story (another confession: we never actually get through a full showing of the movie. Over the 24 hours, we watch the whole thing. Just not actually at once), working on projects and crafts with my daughter, and enjoying the fact that my husband actually has some time off from work. And then there's the little part about opening presents because, let's face it, that's pretty awesome.
In addition to all that, we have a whole family to-do. Here it is: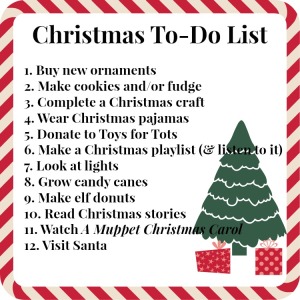 We try hard to get everything on our list done each year, and while I'd like to say that it evolves every year, it doesn't. However, for next year, I'm going to attempt to add "mail holiday cards" to the list. I'm horrible about it, my husband is even worse than I am, and while we always intend to send cards, we never actually do. But it's the thought that counts, right?
For those who are interested, you can find how we make elf donuts here and how we grow candy canes here* (it is this time of year, I send an extra big thank you to Pinterest because I would not know what I'd do without it).
Also, here's a song that's on our Christmas playlist. This is the kind of song I can get behind.

*note about the candy canes: in the link, she grows cookie pops from tic tacs. I use green and red jelly beans, and buy the mini candy canes for the "in-between" stage before they grow to full sized ones. It takes a few extra days but it's fun for the kid. Also, I don't use the poem.
**There's a typo in the to-do list image. The correct title is The Muppet Christmas Carol. My bad. #toolazytofixit
What's on your Christmas to-do list?
Linking up with Megan and friends for Music Mondays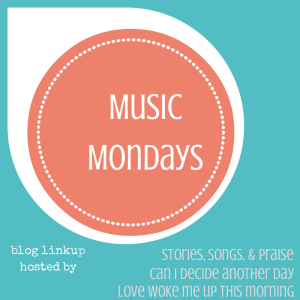 Save