This month, Erin and I are paying tribute to the music of the 1960s. The era of JFK, MLK, Vietnam, Woodstock, the Civil Rights Act, the Voting Rights Act, the beginning of the War on Poverty and a whole bunch of other landmark events for America. Also, music. So much music.
It was quite difficult for me (Jana) to pick a handful of songs from this decade but Erin had a slew of them which I'm sure is telling but I'm not sure what it tells other than while I'm tuned in (hahaha for my bad pun) to history, the music of the decade isn't high on my list. But I did pull a few to compliment Erin's and so without further rambling, here's our picks from the beginning of the decade to the end. Chronological order FTW! But there might be a couple of missing years. Specifically, 65. And OMG, was it difficult to pick a just few from 64. Choices are hard, y'all.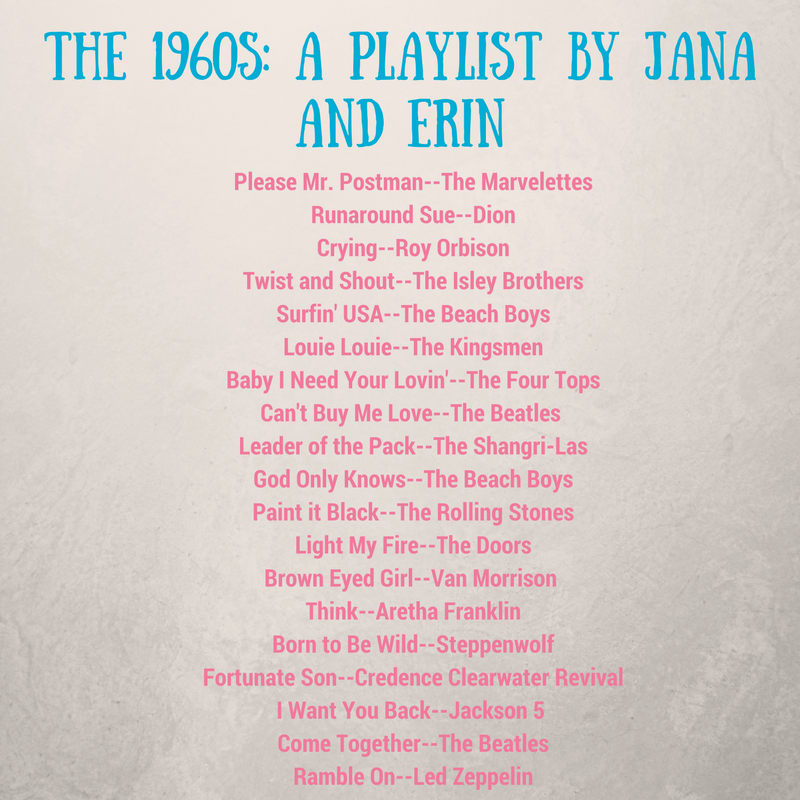 Have a listen to all the songs below! Also, please let us know what some of your favorite 60s songs are!
Please Mr. Postman–The Marvelettes

Runaround Sue–Dion (Jana's fun fact: This is one of my favorite songs. Maybe ever)

Crying–Roy Orbison

Twist and Shout–The Isley Brothers

Surfin' USA–The Beach Boys (anyone else ONLY think of Teen Wolf when they hear this song? No? Just me?–Jana)

Louie Louie–The Kingsmen (why shouldn't Animal House be fully represented here? Also the 80s movie Coupe de Ville. Anyone else know what I'm talking about?–Jana)

Baby I Need Your Lovin'–The Four Tops

Can't Buy Me Love–The Beatles (HOLY HELL DO THE 80s MOVIES REFERENCES NEED TO STOP!!!–Jana)

Leader of the Pack–The Shangri-Las

God Only Knows–The Beach Boys

Paint it Black–The Rolling Stones

Light My Fire–The Doors

Brown Eyed Girl–Van Morrison (THE anthem for every brown eyed girl on the planet)

Think–Aretha Franklin

Born to Be Wild–Steppenwolf

Fortunate Son–Credence Clearwater Revival

I Want You Back–Jackson 5 (For a fun dance to this song, watch..well, save yourself the whole movie and just see if you can find the scene from Clerks 2)

Come Together–The Beatles

Ramble On–Led Zeppelin