Ever feel really crappy to the point of not wanting to get off your couch, not wanting to talk to anyone, not wanting to shower or even wear clean clothes? Me, too. And it sucks. A lot. Especially when it's hard to explain why you feel so awful when, on the surface, it doesn't look like there's anything to feel bad about. But it happens and we have to live with it.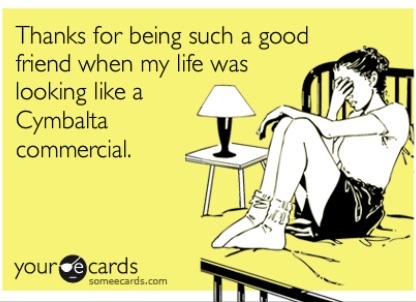 Moods like that are hard to break. Believe me, I've tried. And over the last year, I have worked hard developing techniques and ideas to prevent that from happening again. Since we have a one-income budget and money doesn't flow as freely as it once did, I've devised some free and inexpensive ways to snap my bad mood when they happen:
Browse Pinterest. I realize this can have the reverse effect, particularly if you spend time browsing all the perfect homes and crafts and fashions. So don't do that. Instead, browse the animals section for a dose of fuzzy cuteness (this is my personal favorite section) or the humor section for a good laugh or inspirational, uplifting quotes. Create a board of all of your favorite feel good pins so the next time you're feeling bad, you have them all in one place. Or make a collage of your favorites, print a copy and hang it around your house or desk at work or wherever you need it.
Exercise. When my depression was diagnosed, my therapist mandated that I exercise in conjunction with my therapy and meds. And I can tell you, when I exercise regularly, I feel so much better. If going to a gym is too expensive, look for free classes in your community or find cheap, one time fee drop in classes. Or get outside and walk in the park or your neighborhood. Or rent an exercise DVD from the library or use Pinterest or YouTube to find routines you can do at home. Even 15 minutes is enough to make a difference.
Create. There is just something therapeutic about creating something. Not only does it take your mind off of what's bothering you but it boosts your ego a bit when you've finished the project. You can sit back and say "hey, I made that" and honestly. it feels great to say that. Instant mood lifter. It doesn't matter if it's something as simple as coloring a rainbow or paint by numbers or as sophisticated as cooking a gourmet meal or composing a song. When you're feeling down, tune into your creativity and indulge it. It doesn't have to be fancy or expensive either. A pen and the back of an envelope are enough.
Rest. Sometimes the stress of daily life gets to be too overwhelming. There are chores and errands and work and family obligations and bills and so many other stressors that after awhile, it takes its toll on a person. With all the demands on our time, and the desire to do it all perfectly (is that just me?), it's no wonder we're all so anxious and depressed. If you're feeling like this, give yourself permission to rest. Take a day off. Let the laundry go another day. Eat cereal for dinner. Go to bed early. Say no to plans. Nothing cures a bad mood faster than a good day's (and night's) rest. And, as an added bonus, it's free!
Make a gratitude list. There is no better way to feel shitty about yourself and your life than to compare it to those whose lives you perceive as perfect. Yes, there are people who are richer and in better shape and have a nicer house and more money. But so what? That doesn't devalue your life, home, health or anything else. When you're feeling down, make a list of 10 things you are grateful for; it doesn't need to be a list of material things. Anything you are grateful for will do. When you're done, take a few moments to reflect on what you wrote down. It'll encourage you to feel better (even when you don't want to).
As someone who has to work hard at being happy and feeling good, I employ these techniques often (but within reason). They really do work, and the effects last longer than a day at the spa or shopping. Because while those provide momentary relief, when they're done, that's it. There's no more. And then there's the whole dealing with the amount of money spent which causes more stress and depression and kind of defeats the purpose.
Readers, what are some inexpensive activities you engage in to help lift your mood?