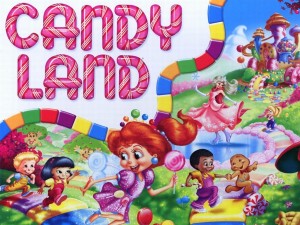 Board games are a favorite family activity in my house. In fact, as I type this, my daughter asked if we could play PayDay. Which is fun and it teaches about money so there's actually a purpose (if you're into that as a selling point). And that's how we roll in my house.
Seriously, what's not to like about board games? That's right. Nothing. Pretty much everything about them is great. Except Monoploy. Monopoly is evil and should be destroyed. We only play it if we feel like fighting because really, who doesn't need a good fight over a game involving plastic hotels and free parking?
Clearly we do. Because why not.
However, there's one game that I maintain is better than all the rest. And that game is CandyLand. I mean, you just can't argue with this logic:
No reading involved. Not even for directions.
Easily converted into a drinking game.
Gingerbread men game pieces.
Super cheap to buy. And you can buy it anywhere, pretty much. I'm fairly certain I saw it at a 7-11 or gas station.
Even if you're losing the whole time, you can win with the pull of one card.
It's such a tedious paced game, time slows down. And who doesn't want to feel in control of time? That's a kick ass superpower.
So. Many. Pretty. Colors.
The satisfaction of seeing an opponent get stuck in molasses while you hop over them with a double square.
Designed by a woman. Recovering from polio. In 1945.
It's also in the toy hall of fame (so is the stick. Like an actual stick. From a tree. So you know the standards for induction are crazy high).
So. CandyLand. You can't beat it.