If you are a fan of Jana Says on Facebook, you know that for the last few weeks I've been in the process of moving. We sold our house, bought a new one, and moved into the new one at the end of last week.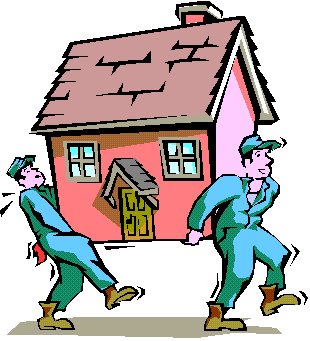 Except I wish it had been that simple. Over the last 8 weeks, my husband and I encountered every problem possible when buying and selling a house. You already know about the lying liars who lied. That was just the beginning of our problems. I won't go into all of what happened because there are some of you reading who might want to buy a house someday and I don't want to scare you out of it. If done properly, it's a relatively easy procedure. But that's not how the husband and I roll so of course it had to be as difficult for us as possible.
And it all came to a head last Friday.
We had planned to settle on both our townhouse and our new home on the same day, Friday. Due to some…problems that had nothing to do with us, we found out at 10:00 AM on Friday that we would not, in fact, be settling on our new home at 2:00 PM as scheduled. We were, however, still settling on our townhouse at noon, effectively making us homeless.
I had never been so scared in my entire life. Here we were, people who follow all the rules, pay all our bills on time (early, even!), submit all required paperwork when requested and we weren't going to have a place to live. I joked for weeks that I'd be living in a cardboard box behind a McDonald's (you know, because of the free wifi) but on Friday morning, the joke was quickly becoming a reality.
And this was the complete opposite of funny.
What really freaked me out, besides the fact that I HAD NO PLACE TO LIVE, was the fact that this was happening approximately 3 days before my child was starting school. In a new place. With all new people. And she's terrible with change. The very least we could do for her was have a house to move into.
Clearly no one else thought of, or cared about, that.
I finally broke down. After all that we'd been through during the home buying/selling procedure, I'd kept it together. But getting that phone call was my complete undoing. Already emotional from leaving our house of 9 years, the one that we brought our daughter home to, the one where we started our marriage, I now had to contend with having no where to go. With no clear time frame of how long our impending homelessness would last. So I wept. A lot.
Sensing the urgency and direness of the situation, my very generous parents and in-laws offered to pay for us to stay in a hotel (I should note here that if you do not have an emergency fund, get one immediately. I don't know what would have happened to us financially if we did not have that emergency fund in place) and while at least a hotel offered shelter, the thought of sending my child to school from a hotel made me feel like a terrible parent. Like I had somehow failed her. Like I was deficient as a parent.
And that made me think about the parents all over the country who are living in hotels. I don't know why they're there. It could be for reasons like ours. It could be because they lost their house and this was the only place to go. It could be because they don't want to be tied down to any one place. It could be for reasons I'm not thinking of. Maybe they're happy living there. But my guess is that they're not.
Any parent with even a small amount of concern for her child's well being doesn't want her living in that type of unstable environment. Parents want their kids to have the sense of stability that a home brings (in this situation, "home" does not necessarily mean "house". It can be trailer, apartment or house. "Home" also does not imply ownership; a home can be a rental as well). They want their kids to feel safe and secure. You can't get that in a hotel, long term, even if you try to jazz the place up to feel more "homey". You get that from an actual home.
In a hotel, you can't provide the meals that your kid needs to thrive in school. It's hard to get them a bus to and from school, and maybe driving them isn't an option. In a hotel, there are noises and distractions that prevent a good night's sleep, which also help kids succeed in school. There's no privacy. There's no space. There's nothing except shelter.
Shelter, which includes running water, electricity, beds, and a roof, are, of course, of primary importance. But don't we all deserve more than that? Don't we all deserve a home? Don't all kids deserve that feeling of having somewhere safe to retreat to at the end of the day?
I think they do. So do adults. (Note: I'm not going to launch into a soapbox tirade about safe, affordable housing and/or the causes of homelessness here. I'd like to but then this post would run on for 8000 words).
End rant.
Fortunately for my family, things ended positively. Without going into specifics because I don't know that I'm allowed to discuss them, we were able to (legally) get into the house on Friday. My daughter had her own bed to sleep in before school started, I was able to pack her lunch, give her a good breakfast and take her to school. But what happened for us doesn't always happen. We were luckier than most. I know that.
After our experience, I'll probably think a little differently when I hear about a family living in a less than desirable situation, like in a hotel or with relatives. I might not assume certain things as quickly and I certainly won't judge them. Because we were almost that family. And I know how I would have wanted to be treated. And they deserve the same.