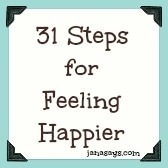 What did you read yesterday? I read a couple of chapters in Jeannette Walls's latest The Silver Star. I loved her other two books (The Glass Castle and Half-broke Horses. If you have not read them, do so) and this one is great so far. I have a tendency to latch on to authors that I like and read everything they write. I've done it with a number of authors; Jeanette Walls is the latest to make it to that illustrious list. Can I also say that I love that she was a gossip (maybe entertainment) columnist before she started writing these wonderful books? It just shows that you never know what talent is lurking behind something seemingly superficial.
I also made the ambitious decision to buy the new, very comprehensive Jim Henson biography. It's around 600 pages and I'm pretty sure I'm not getting through it by the time it has to go back to the library. I want to take my time reading it since, you know, it's a biography about JIM HENSON, and I'd rather have it on hand.
But that's enough about books.
Can you believe it's day 11 already? This month is flying by. Which is good because Thanksgiving is my favorite holiday and I can't wait to get to it. It also means that we'll get through Halloween (I'm making my daughter's costume this year. Expect a post on that) and the rest of fall cheerleading (my daughter cheers at football games. Outdoors. One of the main reasons I don't like football is because it's outside in the cold. And I now I have to sit outside while my kid cheers. It's unpleasant. Although, it's been unusually warm this fall so it hasn't been too bad. I'm digressing). It also means that we're starting to spend more time indoors, making it perfect timing for finishing projects.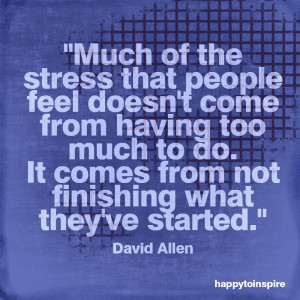 Which leads me to today's step towards happiness: complete an unfinished project. 
I have at least a dozen unfinished projects in my house. From a mismatched set of cloth napkins that I'm sewing to hanging pictures on my wall to finally doing a big batch of freezer cooking, there are a minimum of 12 projects in various stages of completion lurking in my house. Every time I look at one of them, I get upset and stressed because I've either abandoned the project, don't have time to work on it, ran out of materials and don't have the cash available, or have some other ridiculous excuse for why I stopped. Then I start getting down on myself that I never finish anything that I start and you all know where it goes from there.
BUT!
When I do finish something, I feel great. I feel empowered and encouraged to finish another way. Then I feel happy not only because I finished but because I finished. I can't wait to share the fruits of my labor. I can relax know that that project is done. One less item to worry about, one less sad looking pile of materials in the corner. One less reason to berate myself.
And one more notch in my happiness belt.
That's how I want you to feel today. I want you to feel happy that you took the initiative, carved out the time, and completed a project you abandoned. It doesn't have to be crafty. It can be as simple as ordering pictures for a frame (and then filling the frame) or hanging a shadow box over the toilet paper in your bathroom (I saw it on Pinterest and I am in love with the idea). Just pick one project you've been meaning to finish and commit to finishing it. Today.
You'll be so glad you did.
(Also, whenever I see the word "today" and it's emphasized the way I did it, I automatically start singing Neil Diamond's "America" in my head. It's involuntary.)