Back in my personal finance blogging days, I would play a game that I totally ripped off from my favorite morning show. I called it "Money Shuffle" and I would go through my iPod, pick the first 5 songs that came up and then relate a personal finance story to each song.
I have decided to resurrect that game. It might have something to do with the fact that I heard it on the radio this morning.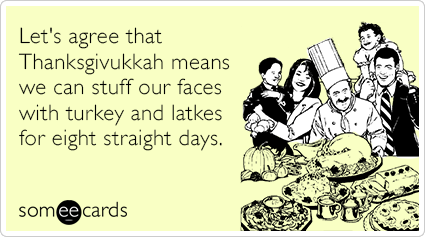 For this version, though, we're talking about Thanksgiving. Because it's next week. Also, it coincides with Hanukkah for the first time in about 47,000 years and won't happen again for another 86,000 years. Or something like that.
I might be off a bit on the numbers.
But I'm not off on the fact that Thanksgiving is next week. It's my favorite holiday, and it's particularly my favorite holiday to host. I love cooking Thanksgiving foods, having my family in my house is delightful (I swear, there's no sarcasm there. I really do like having them), and in my house, Thanksgiving remains the official start to the Christmas season. No buying anything Christmas in my house until Thanksgiving has passed.
Insert angry rant about too much focus on shopping and the fact that Thanksgiving is all but erased. Definitely a soapbox issue for me. 
However, much like my family on Thanksgiving day, you're here for the food. So we'll focus on that. And the fact that we're going to play a fun game. Thanksgiving shuffle.
I've selected 4 songs at random from my iPod and assigned a Thanksgiving food to each. I don't necessarily have a recipe for all of them, but if you do, please share in the comments.
Here we go: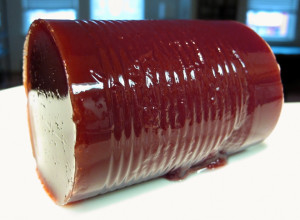 I Hate Everything About You by Three Days Grace–I give this honor to canned cranberry sauce. It has no business being on my Thanksgiving table except for the fact that one of my in-laws prefers it to my homemade kind and gets sort of upset when it's not there. But it grosses me out. The solid, ringed, gelatinous mass screams "I'm vile! Please don't touch me!" yet there it sits, a revolting blob among the deliciousness of everything else. All for one person. You're welcome.
Burn It To the Ground by Nickelback–Fine. Judge me for having Canada's other shame on my iPod but any song that can work in the phrase "bat shit crazy" is okay by me. The epicurean honor for this song goes to deep fried turkey. Or, more accurately, the reason I will not let my husband deep fry a turkey. He's accident prone. Even more so than me. And I'm pretty sure that if he attempted to deep fry a turkey, something would catch fire and burn completely to the ground. Even the fire department deserves a day off, husband. So no deep fried turkey for you.
Get Stoned by Hinder–Okay. PSA. Don't get stoned before Thanksgiving dinner. You will probably eat everything at the table and therefore anger everyone else since there will be nothing left. That said, I totally get high off of stuffing. It's my favorite Thanksgiving food, particularly the way I make it, which is my own version of Rachael Ray's stuffin' muffins. These are the reason I immediately change into yoga pants after dinner and also maybe just thinking about them is making me a little hungry. I swear I'm not really stoned. 
Goodbye Earl by by the Dixie Chicks–A song about two women poisoning one of their abusive husbands and then hiding his body. I got nothing. But here's my recipe for sweet potatoes. It's my Nanny's recipe and it's delicious. Warning: it makes a tremendous amount of food. If you're not hosting 75 people or an NFL team, half it:
Nanny's Sweet Potato Pie
Ingredients:
6 large cans Bruce's yams or sweet potatoes
1 package dark brown sugar
2 jars marshmallow fluff
4 tsp cinnamon
2 sticks sweet butter or unsalted margarine
2 20 oz cans crushed pineapple in juice
1 package mini-marshmallows
Directions:
Drain and mash the yams or sweet potatoes, first by hand then with an electric mixer (I use my Kitchen Aid stand-up mixer).
Melt the butter or margarine, and combine with sugar and cinnamon.
Mix butter, sugar and cinnamon with the fluff. Add to mashed yams and mix well with electric mixture to make it creamy in texture.
Add the crushed pineapple with some of the juice. Mix well by hand.
Spray a 13×9 inch pan with cooking spray and pour the mixture in (leave a little room for expansion).
Bake at 350° for 30-45 minutes, until the top begins to look slightly solid and the rest is bubbling.
Add the mini-marshmallows to the top and cook until the marshmallow melt slightly and brown, but are not burned.