I love the whole three things post idea. I've even done a couple before. I love them because they're organized, they're in list form, and they're really easy to steal borrow from someone else. So when Tanya posted her holiday version of three things, I knew I'd be all over it.
Except. Holidays are weird. Do I talk about Hanukkah? Do I talk about Christmas? DECISIONS ARE HARD. So I decided not to decide (or, to quote Rush, If you choose not to decide, you still have made a choice. FINE. I GET IT. But I'm not feeling philosophical right now) and I'm just going to answer with a mess of both holidays.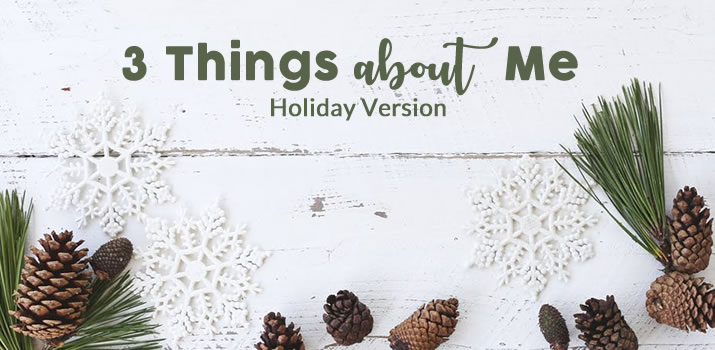 3 Things I Love about Christmas
Lights. I love Christmas lights. I even loved them before I celebrated Christmas. THEY'RE JUST SO PRETTY. And for those who are wondering: white lights on the tree, multicolored lights on the outside. This is nonnegotiable.
Donating to Toys for Tots. It's something I've done since I graduated from college and it's one of the highlights of the whole season.
A fully lit menorah. Day 8 is beautiful, even on my rickety, old, covered in candle wax menorah. This might be a subset of lights but I stand by it as it's own thing.
3 Things I Dislike about Christmas
The Elf on the Shelf phenomenon. FUCK THAT SHIT. I don't need or want a creepy stalker elf anywhere in my house and I sure as shit don't want to have to think about creative ways to move it or give it personality.
Perfectionism. Or, the idea of perfectionism perpetuated on social media. If your holidays are really that picture perfect, I'm not sure if I can trust you. Because I think you're a liar.
Never being able to find anything for Hanukkah. It's getting a little better now (thank you, Michael's) but up until the last year or two, I'd have to go to New York or have my mother send me things for Hanukkah. Basic things like menorah candles. This shouldn't be. I mean, Hanukkah is not a major holiday at all but COME ON. It should not be a stretch to find a box of candles.
3 Favorite Christmas Movies
The Muppet Christmas Carol. I have an obsessive love of The Muppets so this shouldn't be a surprise.
Christmas Vacation. A standard.
A Christmas Story. Mostly because I quote it all year. P.S. I am oddly curious to watch the live version of it but I fully expect it to suck balls
3 Favorite Christmas Treats
Peanut butter fudge. All fudge, really, but specifically peanut butter. Because peanut butter.
Potato latkes. My great-grandmother made the best ones in the history of ever but even ones that aren't quite as good as hers are still pretty damn good.
Cookies. Any and all. And not the gluten free bullshit than I'm usually resigned to. I eat the cookies and I expect issues. But so worth it.
3 Favorite Christmas Traditions
Decorating gingerbread houses. I buy a kit because there is no way in hell I'm making all those pieces. But it's something we do every year and while it ultimately ends up as the ugliest Christmas gingerbread village in all the land, it's a lot of fun.
Watching The Muppet Christmas Carol. True story: I saw in the actual movie theater when it was released in 1992 and now I own the DVD and it's my favorite Christmas movie of all time. I'd rather watch it than pretty much any other movie.
Making reindeer food and elf donuts. I've had to embrace some Christmas normalcy because of my daughter, which means the whole cookies and milk for Santa (he gets fudge at our house, though, and also thank god we're almost done with all of this crap because it's exhausting) and back when I was an ambitious mother, I found something on Pinterest for both reindeer food (oatmeal mixed with sprinkles and thrown in the yard) and elf donuts (Cheerios covered in powdered sugar, cinnamon, or melted chocolate and put in a mini Altoid tin).
Bonus tradition: growing up, we always ate Chinese food and went to the movies on Christmas day because THAT'S WHAT JEWS DO
3 Favorite Christmas Songs
None. I loathe Christmas music and "I Have a Little Dreidel" is a pretty shitty song. But if I had to pick, it'd be:
All I Need is Love by The Muppets and Cee Lo (heavy emphasis on The Muppets part of the song)
The Season's Upon Us by The Dropkick Murphys
All the Hanukkah songs by the Maccabeats (this one about latkes is my actual favorite)
3 Favorite Christmas Gifts Received
I actually have no answer for this question because my mind is refusing to allow me to remember gifts of any significance. I'm pretty sure I got a Cabbage Patch doll for Hanukkah when I was a kid and I know I was ecstatic but I'm not 100% confident that it was for Hanukkah so it can't count. I also remember being over the moon happy when I got a VHS copy of Major League (one of my all-time favorite movies). Those are the two that are jumping out. Maybe we'll revisit this question another time.
3 Gifts I Want to Give the World
Empathy. The amount of bullying and racism and lack of compassion and shaming for everything is out of hand. Everyone has some amount of hurt and sometimes, we wind up projecting our own hurt onto others (hurt people hurt people is #truth). And that's not fair. Considering other's feelings and realizing we're all just trying to do our best goes a long way.
The impeachment of Donald Trump. A girl can dream.
Equality. In pay, in the workplace, in the home, in society, in everywhere. No one gender or religion or race is superior and we'll all be better off once we start recognizing that. It's time to smash the patriarchy, xenophobia, homophobia, ignorance, and intolerance of anyone not exactly like us once and for all. It's time to start treating everyone with respect and basic human decency.
Your turn! What are three holiday things I should know about you?