I think it's pretty clear that books are some of my favorite things ever. And while I read a lot, I sometimes wonder if I read the "right" books. I mean, there are dozens of classics I've never read (even though every year I promise I'll read some of them) and when I see books like My Ideal Bookshelf, I get so intimidated because a) I've never heard of half of the books people mention and b) they seem way above my intellect. And then I get sad.
And that lasts 5 minutes.
Because even though I might not read the right books, I read the right books for me. That's pretty much all that matters.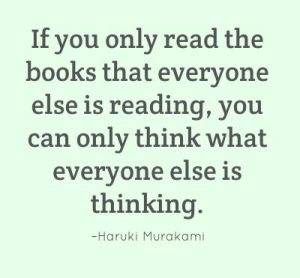 So when my friend Sally (who blogs at Tiny Apartment Design) nominated (asked?) me to list 10 books that changed my life, I was first nervous and apprehensive but then excited and enthusiastic. Because I want you guys to know what books have made a difference to me. It's hard for me to say that these books changed my life, per se, but they have all had a long lasting impact on me and have affected how I think about life, writing, storytelling, and made me feel all the feels (or some combination).
These are my books in no particular order except the way PicMonkey cooperated: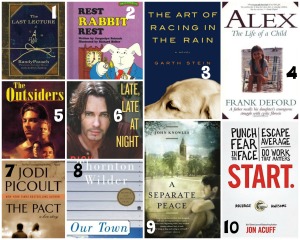 The Last Lecture by Randy Pausch
Rest Rabbit Rest from the Sweet Pickles series
The Art of Racing in the Rain by Garth Stein
Alex: The Life of a Child by Frank Deford
The Outsiders by S.E. Hinton
Late, Late at Night by Rick Springfield
The Pact by Jodi Picoult (I could also have picked The Storyteller)
Our Town by Thornton Wilder (I know it's a play but it counts to me)
A Separate Peace by John Knowles
Start by Jon Acuff
Honorable mentions include:
Downtown Owl by Chuck Klosterman
The Curious Incident of the Dog in the Night-time by Mark Haddon
The Story of Edgar Sawtelle by David Wroblewski
I'm sure the list is longer but we have something important to get to.
Like free stuff.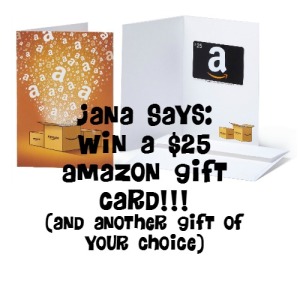 Now that you know some of the books that impacted my life, I want to help you find the next one to impact yours. To do that, and to thank you guys for being THE BEST readers ever, I'm joining with a bunch of other bloggers in a giveaway. From me, you get a $25 gift card to Amazon (my favorite place to shop) and another gift of your choice, not to exceed $10 (nail polish, Starbucks or Dunkin Donuts gift card, more money to Amazon…whatever you want). Just complete the entry form below and when you're done, keep reading to see what awesome stuff 8 other bloggers are giving away. You know you want it.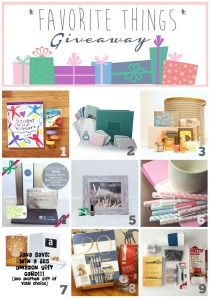 1. Ellie: Ellie Petrov / 2. Sarah: Beauty School Drop Out / 3. Shelly: DIY Mama / 4. Karen: Book Delight / 5. Lisa: Expandng / 6. Dean: Mrs. AOK / 7. That's me! / 8. NJ: A Cookie Before Dinner / 9. Kathleen: Kapachino
Good luck!
Save