First SUYB of the year! Hooray! But this is a bittersweet day for me because today would have been Dobie's 12th birthday. He was the best dog ever and my heart still hearts from losing him. I don't know that I'll ever not be sad but today is extra hard. So if I take a little bit longer than usual to visit all of your bookish posts, please bear with me.
Okay. So. Reading stuff. I finished 6 books since the last linkup (school vacations are murder on my reading time) and am trying harder than usual to catch up on all my NetGalley books since most of them are WAY past their pub date. I've also been trying to read more on my Kindle and books I have at home but the library is always so enticing. DAMMIT, LIBRARY. I CAN'T QUIT YOU.
As always, don't forget to visit Steph and some of the other bloggers joining us. My reviews are copied from Litsy (despite my laundry list of 2018 goals, using that app to its fullest capacity is not one of them but if you want to follow me there, you can. My username is Jana. I know. I'm very creative) and if you want, we can even be friends on Goodreads so you can stalk my books all month long and find out what I've finished before our next one on February 13.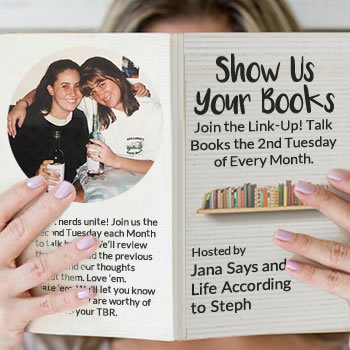 My Absolute Darling by Gabriel Tallent  This book waffles between mediocre and terrible. I strongly dislike his writing, the plot was a jumbled time hopping mess, all of the characters, even the ones you're supposed to like, are awful, and it went nowhere half the time. Also the ending sucked and moved on VERY QUICKLY from a horrible event. However, the other half was a strong story about child abuse (graphic, disturbing, terrible child abuse so if you decide to read this book, BE WARNED that it will turn your stomach), Stockholm Syndrome and trauma, and, for lack of a better word, redemption. I don't understand all the praise for this book because there are way better out there.
Sing, Unburied, Sing by Jesmyn Ward  If you're looking for a weird, sad, gorgeously written story about death and addiction and family, this is a solid choice. The sci-fi elements and alternating POVs didn't bother me (even though I am tired of books with them) because it told a complete story without feeling gimmicky. Some parts felt rushed or unnecessary or left me wanting more but this is one of those books where I'll take what I can get. I loved how she dealt with racism without it feeling like a cause she was preaching about but rather the real, complex issue it is. Unlike the previous book I discussed, this one is worthy of all the praise including the National Book Award that it won
Marlena by Julie Buntin Sorry, Steph, but I loved this one. The writing was superb, the plot is sad and depressing, and I spent the whole book wanting to make the girls feel better. It's about friendship and adolescence and addiction and poverty and lonliness and pain both during life and in the wake of death. There were some plot points that felt superfluous and I'm a little tired of the poor divorced single mom cliche portrayed in the book but mostly it was exactly what it needed to be. ARC from NetGalley I read way too late
Young Jane Young by Gabrielle Zevin This one started out superstrong for me (the Jewish mother stuff was hysterical) and tapered off as it went on. Another one with alternating POVs but with this one, they told a linear story rather than differing points of view of the same one, so that was nice. It's a mother/daughter/starting over story that felt both complete and incomplete at the same time. There were parts that left me wanting more and parts that left me wanting less and the advancing in time was way too rapid but overall, this is a good vacation-type read or a good palette cleanser if you read a lot of heavy books. Do not go into this expecting fine literature. ARC from NetGalley also read way too late.
Never Knowing by Chevy Stevens I love that when I read her books, I know exactly what I'm going to get. Like a TJR of thrillers. They're reliable, interesting, fun, predictable but also kind of twisty with some family and relationship drama thrown in for good measure. AND DOGS! This one was no different and while it's not my favorite of hers, it was still an enjoyable read. Good for a cold snowy day or vacation/beach read.
Radio Free Vermont: A Fable of Resistance by Bill McKibben As advertised, this is a fable about resistance and breaking free from big government and big corporations and standing up for what you believe in and the power of the people to change things. It's weird, funny, and makes really good points within the absurd and it's worth pointing out that this book really only works in our current political climate (the skewering of Rex Tillerson is funny). You definitely have to have a certain political leaning to enjoy this book (I do) and it's short, so you can finish it in an afternoon.
Currently burning through The Life We Bury with We Were Eight Years in Power on deck.
Now it's your turn! Link up and Show Us Your Books!
Loading InLinkz ...