I thought maybe, in light of last week's rants, I'd highlight some things in January that didn't totally suck. Despite the political climate we live in, good shit does still happen, both privately and publicly.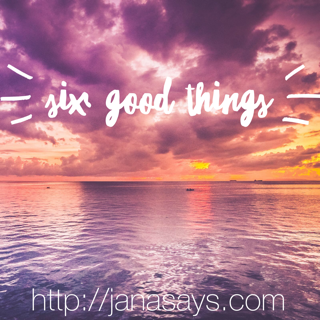 Let's discuss.
My running pace improved. To be fair to myself, I give zero shits if I run fast or if I ever win a race. Hell, if I always place last, that's fine. But I did a run the other day that put me at a 13 min/mile pace and that's a full minute improvement from a few months ago. Yay me!
I have happy clients. Most of the time I feel like an imposter at this whole editing business. But I'm working on a big project right now that I tell myself I'm totally incompetent to do when really, my client is happy with my work. I still feel like an imposter but I'm apparently really good at hiding it.
Concert announcements. I'm working on my summer plans and thankfully, summer concert announcements are coming in full force. Since Tom Petty died, I made a vow to myself to stop waiting to see artists I've never seen and always wanted to because who knows how much longer they'll be around. Which is why I'm planning on seeing Journey and Def Leppard as well as Elton John (wish me luck for those tickets) who I've only seen with Billy Joel. I'm still waiting on some other announcements before I commit to anything else.
Lizzy. She is doing so well. From what I understand about puppy mill survivors, they have a hard time socializing and trusting and being dogs. But my Lizzy is not that at all. She acts like she's always lived here, she has a favorite (me), plays with toys, and housetraining is going surprisingly well. And she loves other dogs. And she's so lovable, even the cat is coming around.
Handlettering. I think I mentioned that I was learning how to do the fancy letters that you see all over the place (thanks to Rebecca Jo for her resource recommendation) and you know what? I don't actually suck at it. I'm not ready to share anything publicly yet but it's nice to have a creative, crafty hobby. And I promise to share some stuff soon.
This new rallying cry from Janelle Monae:
via GIPHY
So there's 6 good things that happened this month. How about you? What's going well for you?