Like I told you guys last month, I'm not a big recommender. I enjoy getting recommendations but really struggle with giving them. So this linkup, hosted by Lauren and Bre, really pushes me to think hard about what I think is worthy to recommend knowing that what I like isn't always for everyone.
But you know what is for everyone? BOOKS.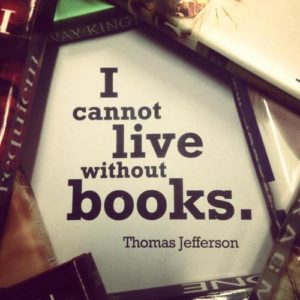 Books are for everyone. Because books are awesome. And in what's probably my worst kept secret, I love books. Which means that, today, I'm going to recommend some bookish things in no particular order and in absolutely no categorical groupings (which, incidentally, is how my at-home library is organized. I won't bother with a picture because I don't want my organized friends to freak out):
Book Riot. Follow them on all the social media, read their blogs, listen to their podcasts. They're my go-to source for all bookish news and it's my dream job to work for them.
Flipster. Free library app for magazines. You can't get all the magazines but you can get a lot and there's a ton of variety.
Litsy. A hybrid of Instagram and Goodreads, and it's exclusively devoted to bookish things so if you find yourself scrolling through IG just for book pictures or reviews, get on Litsy stat. I use it to keep track of my book reviews for Show Us Your Books and not much else but it's a great community of book nerds if that's your jam.
NetGalley. THE source for ARCs. They're free, they're eBooks, and the only thing you need to do is review the book somewhere. You won't always get all the books you request but you will get most of them (HELP!: I'm currently stalking Amy Stewart's, Julie Murphy's, and Celeste Ng's new books so if you see them there, please let me know).
BookOut. If you like tracking your reading stats, this is perfect for you. You set a timer and it'll track how long you read and you can fill in the amount of pages and which books you've read and all that stuff. It's a paid app but there's a trial version. Confession: I loved this one but deleted it because I kept forgetting to start my reading sessions and it's hard to go back and fill in what you've done.
Instagram accounts. Reading Quirks, Book of the Month, Books on the Subway, Harvard Book Store, and Liberty Hardy (from Book Riot. She also posts lots of cat picturs). I also recommend following the accounts of some of your favorite authors and publishing houses. I do, it's fun to look at, and I learn about a ton of books that way.
Finding your local indie bookstore. And using it. Look, I love Amazon as much as the next person and I definitely use it to it's (almost) full capacity
I'm not going to recommend any specific books or authors because it's personal and confusing and I struggle big time with picking my favorites or ones that I think you must read but if you're interested, here's a few summary posts I've written:
Okay, so those last two aren't necessarily recommendations but maybe you'll like them anyway.
I'm 100% confident this is not at all a comprehensive list of bookish things I recommend so maybe I'll dig a few more things out and do a part 2 in the coming months. But it's what I've got for now.
So, tell me. What are some of your favorite bookish things that I absolutely must see/use/read? 
Linking up for Add It To My List
Save