Once I realized I wanted to recap my Whole30 experience for you guys, I figured the best way to do it was to interview myself with some of the most common questions I've been asked. Warning: it's a lot of words. There's a TL;DR summary at the bottom. 
Let me know if you have any questions I didn't answer!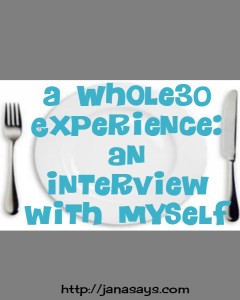 Why did you choose to do a Whole30?
For me, it was more of a mental challenge than anything else. I'd been feeling off, like I couldn't successfully complete any goal I set, and I figured if I could get through one of these, especially through Thanksgiving, anything else would seem easy. Or, at the very least, less insurmountable. The weight loss and health benefits were a bonus but more incidental side effects.
Okay, that all makes sense. But what the hell is a Whole30?
You can visit the website for an actual, technical definition and explanation but in Jana's words, it's a 30 day restrictive, paleo, elimination eating plan. Basically, you avoid grains, dairy, legumes, and sugars and any sweeteners (including honey and maple syrup). It leaves meats, eggs, potatoes (a new addition this year), fruits, vegetables, and various substitutes/changes like almond and coconut flour, coconut milk, spaghetti squash, etc.
With all those limitations, what did you eat? 
Eggs. A lot of fucking eggs. In fact, I am so damn sick of eggs I can't even look at them right now. But for lunches and dinners, we ate bunless burgers with baked sweet potatoes, vegetable soup using broth made from the stock created when you cook a chicken, coconut chicken patties, spaghetti squash and meat sauce (made with my frozen garden tomatoes), stuffed peppers using ground turkey and cauliflower rice, fried "rice" (also using cauliflower rice)…things like that. We got pretty creative and there are a ton of resources on Pinterest and Instagram and the interwebs to help. We found ourselves eating some surprisingly delicious recipes despite not being able to use normal, typical ingredients.
It was easier to make substitutions than I thought it would be. For instance, cranberry sauce is a family favorite at Thanksgiving but the recipe I ordinarily use requires a lot (A LOT) of sugar so obviously that was out this year. I found a recipe that used only cranberries, frozen cherries, and apple juice (fruit juices are okay as sweeteners). Let me just say that this recipe kicked the ever loving shit out of my normal recipe and going forward, it's the one we're going to use at all the holidays. Same with guacamole. I dipped carrots and peppers in the guac instead of chips. Same avocado deliciousness, less bloat, more fiber.
I would be remiss if I didn't mention that, for the most part, I was never hungry. There were days I didn't snack so by the time dinner rolled round, I was willing to gnaw on anything that wasn't nailed down but if I remembered to have a snack, I never got those horrible hunger pangs you hear from people when they're on a diet. It has to do with the real, whole, unprocessed qualities of the foods you're eating. There is such a difference between this way of eating and what the Whole30 founders call the "Standard American Diet" (SAD)
Was it hard? 
In a word? YES. Oddly, though, it was harder during the second half of the month than it was in the beginning. In the beginning, there was momentum and hey, I'm really doing this! But then it just started to drag. I grew tired of planning everything. I wanted to eat something that wasn't chicken or a vegetable. Or an egg. I wanted peanut butter or cheese with my afternoon apple. I wanted to stop going to the grocery store every few days. I wanted to bring in dinner when I didn't feel like cooking. I wanted to stop being conscious of every single label and just eat. But then I remembered why I was doing it and how different I felt and it made it easy to power through.
Thanksgiving was way easier than I'd anticipated, though, so that was nice.
There seems to be so many perks to this. Are there any downfalls?
Absolutely! While you can't deny the health benefits of moving away from the SAD, this is not an easy way to eat. Many of the foods are more expensive, it requires extensive meal planning and there's none of that "hey, we're out and about, let's just grab something quick" (or, if you choose to do it, there are very few options), you will spend an obscene amount of time in the kitchen either every day or once a week to prep for the whole week, and it gets boring. Especially breakfast. As I mentioned earlier, I am ridiculously sick of eggs. I know that a lot of people who've done this use their leftovers for breakfast but that's what the husband takes for lunch so it really left eggs. I would have loved to make muffins or a bread using an acceptable flour substitute but almost every recipe called for syrup or honey which is verboten during the 30 days.
After 30 days of drastically altering how you eat, you must have learned a thing or two. What are some of the lessons you took away from it?
First, I learned which foods trigger my stomach issues. I've had stomach problems for as long as I can remember (remember how I had to have a colonoscopy?) and working through a Whole30 helped pinpoint which ones really bother me. Second, I learned that sugar is in basically everything. EVERYTHING. Even places where you don't think it should be, it's there and now, I check labels like a fiend. Third, I learned that I do really well achieving goals when I have strict parameters and deadlines. And fourth, I learned that I do even better when I have an accountability partner (thanks, husband!).
But the big lesson I learned is that people are willing to support me. Asking for help and being public with my goals is something I struggle with big time. I live in a weird world in my head where people will judge me and ridicule me and wonder what the fuck I'm doing telling them all this crap. Which is weird because I love when people share their goals because I find it inspiring and I enjoy watching their progress (and supporting them along the way) yet I can't do it for myself. When I mentioned I was doing a Whole30 and shared some pictures of my food, I received mostly supportive comments. It floored me. I now need to take that lesson and run away with it.
Now the big question. How much weight did you lose?
I lost 10 pounds during the challenge, along with a few inches. It's more than some people lose, less than others. The founders of the challenge encourage you not to check the scale or worry about losing weight but for me, I need to see that progress to keep going (some times nonscale victories just aren't enough) so I weighed in once a week.
Please keep in mind that the 10 pounds are merely a drop in the bucket of what I need/want to lose but I'm extremely pleased with the start.
Speaking of nonscale victories, did you have any of those?
So many. I sleep better, I broke my dependency on sugar, I stopped checking the scale every day, I'm much more conscious of what I (and my family) eat and how we shop, and my bras fit a whole lot better. Most importantly, I feel stronger mentally. Making it through this accomplished exactly what I wanted it to: to prove to myself that I can achieve a goal no matter how difficult or unrealistic it might seem.
Now what are you going to do?
Well, after a 5 day binge of eating everything I couldn't during the 30 days and feeling like absolute shit, I'm committing to 100 days of paleo eating. I'm tracking it with the don't break the chain method and after that 100 days, I'll revisit and see what I want to do next.
Would you recommend doing the Whole30?
It depends on the person. There are some people I say yes, absolutely do it. There are others who I'd say nope, don't even try. Most people I know fall in the middle and really, it depends on your mindset. If you think you can commit the time and effort and discipline, then go for it. If you think even for a minute that you'd quit halfway through, don't. Or maybe just commit to 15 days because the health and nonscale benefits alone are worth it.
TL;DR:  I did a Whole30. I didn't starve despite not being able to eat a lot of foods, I had scale and nonscale victories, I learned a ton about my body, my support system, and my ability to achieve goals, and I recommend that people give it at least a two week try.
Save