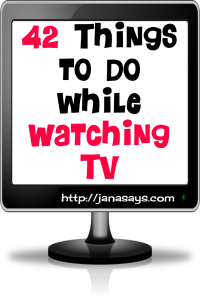 The other day, while looking through Pinterest, I saw yet another post spouting off about how TV is awful and a waste of time and the only way to be productive and engaged is if you just turn it off (the superior attitude she gave in the post is a whole separate topic and rant. Honestly, if you don't want to watch TV, good for you. But please don't condescend to those of us who do). While there might be some merit to what the post author was saying, I respectfully disagree with her. In fact, I believe there are plenty of things you can do while watching TV so you're not just idly sitting on the couch (and if all you want to do is sit on the couch, go ahead. It's your time, your life and you can do whatever you choose with it).
For instance:
Bloggy things
Comment on other blogs or respond to comments on yours
Write a post or two
Optimize posts for Pinterest or SEO
Check for dead or broken links
Create an editorial calendar
Schedule tweets and/or Facebook updates
Create a new header or blog button
Participate in a Twitter chat
Help a new blogger (not sure how? I know a great program you can get involved in)
Revise or update old posts to make them fresh
Give your blog a facelift
Do invoices for sponsorships, freelance work, ads, or services
Finally start that eBook

Pioneer things
Crochet, knit, sew, or mend something
Map your garden
Make soap or candles
Prepare food (ex., pickles, bread, applesauce in the crockpot)
Wash dishes
Research essential oils or some alternative medicines that pioneers used
Make homemade cleaners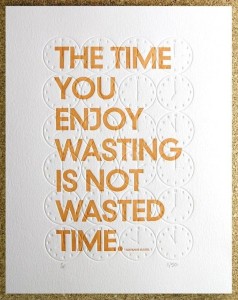 Personal things
Exercise (there are tons of workouts you can do during commercials or while watching a show. Or invent your own)
Pay bills
Fold laundry
Batch cook or menu plan
Read a magazine, a book, or create a reading list on GoodReads (while you're at it, put some books on hold at the library or borrow some from the Kindle store)
Do some online shopping
Look for coupons (I do this with the Target Cartwheel app)
Make a vision board
Organize your Pinterest boards or actually make a project you've pinned
Write out goals or a bucket list
Plan/organize a party or family get-together
Write thank you cards or cards in general
Play a game
Do a puzzle
Create a workout, commuting, or road trip playlist or four
Organize pictures
Groom yourself–mani/pedi, dye your hair, face mask, remove your mustache (no judging here. You need to do what you need to do)
Play with your pet
Text a friend during a particularly interesting show and share the experience
Clean the room you're in
Purge your closet or drawers
Watch something helpful/educational like a TED talk or documentary
The pioneers, from what I can tell, valued being productive over being busy. But they also enjoyed some downtime, particularly after a hard day of work. They relaxed with music, storytelling, and games; many of us relax with a TV show or two. But if you're finding you're hard pressed to get everything done in a day you need or want to, why not get some of it done while you're in front of the TV?
What would you add to the list?