"Man must cease attributing his problems to his environment, and learn again to exercise his will, his personal responsibility"–Albert Schweitzer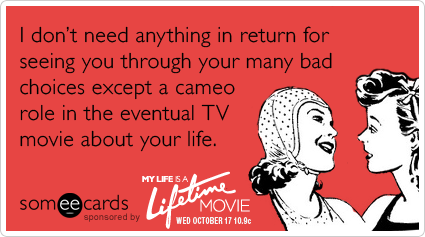 Most of us know, or have known, someone in dire financial straights but who refuses to accept an responsibility for his situation. It's his parents' fault or the credit card company's fault or the landlord's fault or the electric company's fault or even his school's fault. Someone else is always to blame for the fact that he's behind on his bills, can't keep a job, is one notice away from having the power shut off, and spends money on wants instead of needs. He says that he wants to change but his habits and decisions indicate otherwise. He justifies his poor choices with an entitlement attitude (you know, "I try so hard to find a job but no one will help me so I deserve to spend this extra windfall on a new TV instead of food and catching up on my bills"). He begs for your assistance and when you try to help, he dismisses all of your advice with excuses and "I can't do that" statements and resumes his more important Call of Duty game.
He's your neighbor, your friend, your brother, your co-worker. He's someone you care about and you know has the potential to do better if only he'd apply himself. And it's maddening to encounter this on a regular basis. However, when faced with someone like this, there are things you can do, and not do, to both help the person and maintain your sanity:
Inform. Provide the person with information. Lend them books about budgeting, employment and personal finance. Is the person not a book reader? Point them to podcasts, blogs, websites, worksheets, job fairs, free seminars…anything you come across that you think might help. Maybe tell him an inspirational story or two from your own experiences, one about how you turned yourself around or how you learned to live on a budget. But let it stop there. Just give them the information. Let him decide what he's going to do with it. 
Encouarge. Be this person's cheerleader. He may not have anyone else around to make him feel good about his attempts to better himself and his choices. So, if you notice a small change, or if he gives you a good piece of news ("Hey, I got my power turned on because I worked out a payment plan with the electric company), praise him (it sounds condescending, and like something you would do for a toddler, but it works). The subtly point out that one small change can lead to another small change and so on. Keep it positive, though; a "great job on not buying snacks from 7-11 every day" is better than an I told you so. Making him feel guilty or ashamed for his previously poor choices is a surefire way to send him back to those.
Support. But only the positive behaviors. You do not want to support the negative ones. For instance, if this person has a job interview and needs a ride because public transportation isn't an option, there's nothing necessarily wrong with providing one. You are helping him better himself and his situation. However, if he needs you to give him a lift to the mall so he can buy a new Blu-Ray movie or eat at the food court, then you need to say no. That's supporting the poor choices and that's not beneficial to either party. In fact, that's pretty close to enabling, which is something you definitely do not want to do. And, in addition to that, do not, under any circumstances, provide financial assistance. Let him deal with the ramifications of his poor choices and decisions (unless there are kids involved. But then I would do it in the form of a gift for the kids rather than cash to the adult in question).
Walk away. Sometimes it gets to be too much. You offer advice and it gets ignored. You try to stay positive and you only get negativity. You provide options and suggestions and they're dismissed. You show them why they can and they tell you why they can't. You're polite and are met with rudeness. A person can only handle so much before she gets fed up and can't do anything more. If you're at the point where you've done all you can do and you're exhausted from the constant drama, walk away. Protect your sanity. It can't be your problem forever.
A person can change his (or her) financial situation if he wants to. But first he has to take responsibility for the actions and choices and decisions that put him there. Because without accepting and acknowledging those, there's no foundation for change. A person has to see his errors before he can change them. And if he's not willing to see those, or continually makes excuses for his perpetually bad circumstances, then it's not worth making yourself crazy (or broke) to help.
Readers, have you ever known a person like this? How did you handle the situation?