Hey there! Just popping in from my turkey coma/readcation to bring you a special announcement.
Remember last year when Nadine and I did the Instagram challenge #inthedrawer? It was based on this picture (and also a little bit my hatred of the Elf on the Shelf):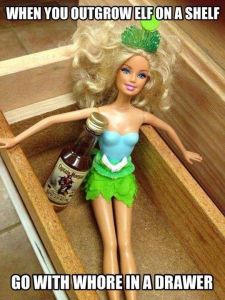 Well, we decided that since we had so much fun with it (and also we both shit the bed on our own challenge, mid-challenge) we're going to do it again. All you need to do is find a Barbie doll (or any doll, really. Even a stuffed animal is fine. No stuffed animal or Barbie in the house? You can buy one for about $5 or $6, or even $1 at a dollar store, and use it. Then, when you're done, if you don't want to keep it, donate it to a homeless shelter or battered women's shelter or group home) and follow the prompts. Nadine will have a linkup every Friday on her blog so you can share what you've done.
Also, make sure you follow both of us on Instagram (I'm @saysjana, she's @lifebynadine) and tag your pictures #inthedrawer. Don't use the word "whore". We don't want to cause any kinds of trouble (or bring about weirdos and creepers).
Here's the prompts: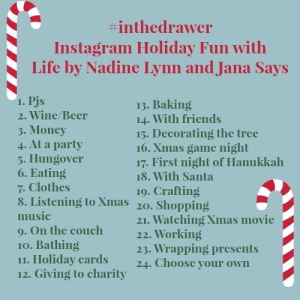 Do your best. Be creative. Don't feel pressure to do them all. But we hope you do!