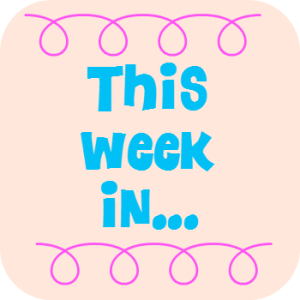 This week in reading…Finished True Story: Murder, Memoir and Mea Culpa and Saving Francesca. Working on The Storied Life of AJ Firky and What Alice Forgot. Picked up Forever, Interrupted, Wonder, Big Little Lies, and The Long Home. Full recap of everything during the next Show Us Your Books linkup on June 9.
This week in disappointment…If you follow me on Instagram, you saw that we rescued 3 baby birds living in my daughter's bathroom vent. We tried as hard as we could but all 3 babies died. And the mother attacked my husband while he was trying to get her out of the attic. So there was that.
This week in dumbassery…I locked myself out of my own blog because I clearly can't type in my password properly. Then I almost forgot to unlock myself before I wrote Thursday's post and had to stop at the library because free wifi and I had books on hold anyway.
This week in being social…Despite my general malaise over everything life, I managed to out on pants and engage with people three times this week. And I had a conversation with 2 of my neighbors. Not bad for a hermit with depression.
This week in things that are delicious…My homemade brownies, thanks to this amazing recipe from Hershey's (note: I don't use Hershey's products when I make them. Still full of chocolatey goodness). I do halve the recipe and forgo the walnuts. I've also never made the frosting because honestly, the brownies are phenomenal and addictive enough on their own.
This week in listening…I don't know what I was listening to that made it play, but I heard this song, "You Are My Las Vegas" by Red Wanting Blue, and it's an adorable song with an even more adorable video. Watch now.
This week in how the hell did I get so old…May 26 marks 25 years since my bat mitzvah. TWENTY FIVE FREAKING YEARS. What the hell? Perhaps I should have saved this for next week's edition but I'm old and will probably forget so I have to say it now. While I remember. #oldpeopleproblems
This week in talking to my husband…He was pontificating about something space related because he's reading a book written by an astronaut and I tuned him out because that shit bores me but whatever he said made this happen–
Me: You know that book is not a passport, right?

Husband: Yes it is. It's a passport to knowledge.
This week in my cat's body count…She's killed at least 2 bunnies. Not sure what else. I don't think I want to know. I don't know how something so cute can be such a vicious murderer. I think people said the same thing about Ted Bundy.
This week in funnies…
Have a great weekend, y'all! I have yet to be determined plans and I'll be back on either Monday or Tuesday, depending on how the weekend goes.